Yeah, baby! Summer is SO here (for a lot of us, at least).
That means it's time to put away the closed toe shoes and break out the sandals and flip flops. My favorite time of year!
With temps pushing into the 90s already in Seattle and with travels that have taken me to warm destinations such as New Orleans and Santa Fe, I've had the chance to slip my feet into the OluKai Hi'ona flip flops (slippers as they say in Hawaii).
Classy. That's what these are.
Classy because they're made from a beautiful leather upper with a soft leather toepost. Don't get me wrong, I do love the other flip flops I own but these? These I can wear out for a walk OR get dolled up in a summer dress and know that they will look great for a nice dinner out.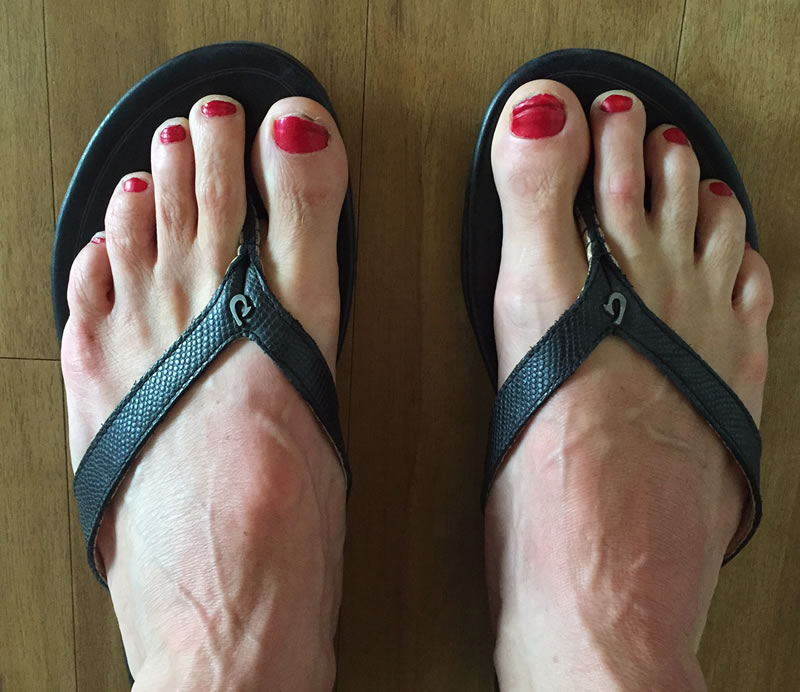 The bottoms have a bit of grip on them with traction pods placed in several places. This is great if you're in a beach area and will likely encounter a bit of wetness. That bit of traction on the bottom is going to stop you from slipping on the floor.
The footbed is firm and anatomically molded but there's enough cushion that I can wear them for long stretches at a time and not have my feet feel fatigued–which is exactly what happens with shoes that are too firm. I walk a lot, especially when I travel, so this is important to me.
Like most people, when I get a new pair of shoes, um slippers, I want to be able to put them on and not have to worry about breaking them in. With the OluKai Hi'onas, the toepost is soft enough that I never had to break them. That means no blisters between my toes. Ever.
Overall, I'm really digging on these flip flops. They have found a place by my back door so that, as long as the weather is warm enough, they're my go-to choice.
Now, Hawaii…take me away so I can wear my slippers where they truly belong!
The OluKai Hi'ona flip flops are available on Amazon starting at under $100.
Be Bold,
Beth
Want to stay up-to-date on all things Wanderlust? Follow me on Facebook, Instagram or RSS/email.
Disclosure: OluKai provided these slippers for me to review. Regardless, everything I have said in the post reflects my honest opinions.