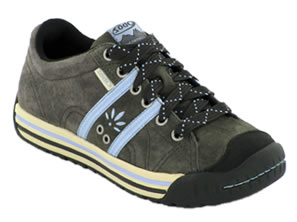 As an avid walker, I'm always looking for shoes that can be worn on a trip to the grocery store or to my neighborhood cafe but are nice enough to also be worn during my travels. (In other words, you won't find me in white tennis shoes in the streets of Paris.) The Oboz Jasper shoes are great for walking, travel, and (bonus!) can sub for light hikers.
Oboz has its roots in hiking and knows that world well. But the Jaspers make a nice leap into the more casual/lifestyle world.
With the Jaspers, the sturdy outsole and arch ensure these provide enough support for both city and trail walking, but the style is suitable enough to wear for a day of sightseeing.
What I Love
The style. With the small Bitterroot flower embroidered on the suede leather upper, these are kind of adorable.
The toe bumper ensures you don't hurt your toes on the trail.
With every shoe purchased, Oboz plants a tree in a struggling community in Africa, Asia, and Latin America.
Not So Much
The soles are pretty stiff. Not a terrible thing in general but just a tad stiff for my liking.
Available in Cashmere (grey), Alpenglow (black) and Lime. Starting at about $90 on Amazon.
I know we're in the middle of summer, but these will be great for cooler mountain hiking and will be great soon enough as we transition into fall.
Travel Well,
Beth