I love a trip when I only have to bring one pair of shoes. I've traveled for weeks in Thailand and Bhutan with one pair of sandals – shoes that I can wear in warm weather yet be able to slip on a pair of socks when days or nights are cooler. That's exactly what I had in mind for these Newport H2 sandals from Keen.
So far, so good.
On my trip to Hawaii Island, these got put to the test in a variety of ways. While I didn't have to worry about cool weather, I did have to worry about different terrains.
On Day 1, we hiked around Volcanoes National Park. Our group had to trample across volcanic rock called a'a, a type of lava that's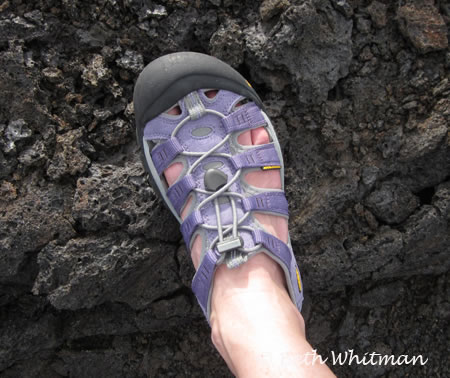 quite jagged (the joke is that a'a is what you say if you were to walk across it barefoot). Any shoes with less of a grip than the Newports, and this could have been dangerous. But these held up better than any shoes I own.
On Day 2, I was on a day-long photo workshop. Unexpectedly, I found myself having to wade through a stream to get to a bank that was supposed to have some pretty good views (low clouds and the threat of rain had us turning around rather quickly). With these shoes, I was able to cross without having to remove them and I was confident I wouldn't slip in them OR stump my toe.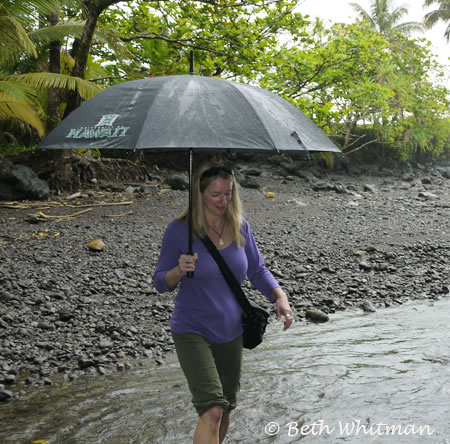 I used to not be as big of a Keen fan as I am now. Mostly it's because I always thought the toe protector made my feet look clown-like. I think Keen is making these toe protectors a bit smaller so they don't make my feet look so big.
The Newport H2s have an elastic draw cord to tighten them up (though once tightened, I haven't ever had to adjust them).
The upper webbing has an odor-reducing anti-microbial shield that prevents stinky feet. My experience with smelly shoes is that this usually occurs in the footbed, not the uppers, but it'll take some time for me to see how these hold up.
The nice thing about the Newport H2s is that they are machine washable, requiring just a bit of detergent and they can easily be air dried. Also great for travel for this reason 🙂
Most importantly? A great option if you're interested in traveling with just one pair of shoes!
Available on Amazon for less than $60.
Travel Well,
Beth
Related links:
Jackie Shoes from Ahnu