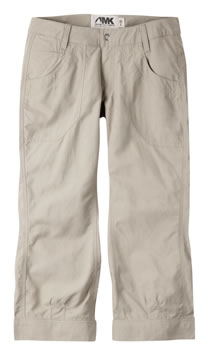 Looking for an addition to your summer travel wardrobe? I've got just the thing for you in the Granite Creek Capris from Mountain Khakis.
I have several pairs of capris in my closet, but I love these because of the relaxed fit and the soft nylon material (100%).
They're not too tight, not too baggy – allowing me plenty of freedom of movement (great for hiking OR for sitting on long bus rides). And the lightweight material is perfect for warm weather travel.
I took these to Zambia with me earlier this month and found them to be quick drying after washing them out in the bathroom sink. The Scotchgard treatment helps ensure some stain resistance as well (although I haven't put that to the full test yet and hope not to).
The Granite Creek Capris have a fixed waste and belt loops so you've got some flexibility with your waistline (you know, in case you loose a few pounds from all that walking you'll do!).
The two front pockets are deep enough that you won't loose anything out of them in the normal course of things but I wouldn't put anything important (i.e. cash) in them. There are 2 back pockets as well, one with a zipper and the other open. I haven't used a back pocket since grade school so consider these to be more aesthetics than practical :-). But they are a nice addition.
It baffles me how a size from one manufacturer can be so radically different than the same size from another company. But Mountain Khakis has done a great job at hitting this just right so you can be sure that sizes will be true.
For me, these are just a great fit. Likely the best I've come across in capris.
Pros:
Soft, quick drying material.
Sizes are true.
Reasonable price.
Cons:
None
Comes in 5 colors and available for less than $65 on Amazon.
Travel Well,
Beth
Related links:
Aventura Travel Clothes
Newport H2 KEEN Sandals
Bolle and Serengeti Sunglasses