Well, Mountain Khakis Anytime clothes may not literally be for anytime, but they are definitely perfect for summer.
Over the past few months, as I've traveled to a number of very warm weather climates, I've had a chance to test these out in time for summer here in Seattle.
The Anytime Cargo Shorts are my favorite of the lot.
All of the other shorts I own are a bit longer than the Anytime Shorts but I've discovered that these shorter (but not meant for a 16-year-old short) shorts, are just the right length for me with a 4.5 inch inseam.
They're made of cotton with a tiny bit of spandex – enough for just a bit of a stretch. There are plenty of pockets (two in the front, two in the back that snap shut and a small side pocket that also snaps) to carry around some loose change and a set of keys.
They do tend to wrinkle a bit so if you've got them all packed away in your luggage, expect to iron them at your destination.
Available in 4.5 and 9.5 inch seam in the colors Pine, Vapor, and Yellowstone. These are about $65 on the MK website.
Anytime Knit Dress
First, let me tell you that the Anytime Knit Dress fits much better than it appears in the photo
(which admittedly looks a bit frumpy). And you could always wear it with a belt if you felt it was too flowing for your frame.
Made of 90% cotton and 10% spandex, the material is a bit heavier than you might expect but this makes it a great item for a cooler spring or fall evening, too.
It's a pretty basic dress but that really does mean it's good anytime – you can dress it up with a scarf and go out to dinner or go hiking or beach walking in it.
Though just a tad bulky, this does pack well because it doesn't show wrinkles once you've unpacked at your destination.
Comes in Coral and Black and costs about $75.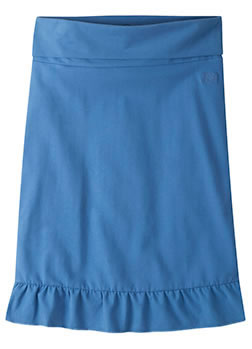 Anytime Knit Skirt
If you're more of a skirt gal, the Anytime Knit Skirt is adorable (I particularly like the Storm Blue color).
The material is the same as the Knit Dress with a cotton/spandex blend and does tend to run on the heavier side.
Like the dress, this packs well and is also a bit more versatile because you can wear a variety of tops with it to mix up your wardrobe for the road.
Available in Storm Blue, Black, and Heather Grey and under $45.
NOTE – Mountain Khaki sizes tend to run a little large so if you're ordering online, order a half or full size down from what you'd normally wear.
Travel Well,
Beth