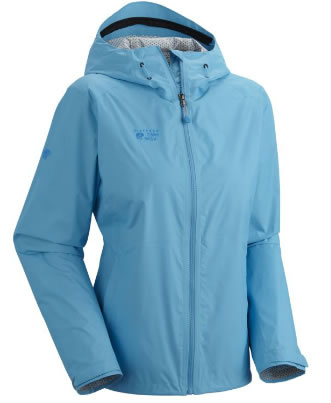 Known for their high-end outdoor clothing, Mountain Hardwear is one of those companies that I always thought had products that were a bit too technical for my needs. Turns out that I was a wee bit wrong on that.
It's true that much of their gear is quite technical and, umm, "gear"ed toward the hardcore outdoor market – alpinists, climbers and skiers. None of which am I. But they've also got gear that is suitable for every day folk, like those living in rainy Seattle, as well as those embarking on an epic trek.
That'll be me next year when I attempt the Snowman Trek in Bhutan. Given that I'll need to layer up for that trek — where I can expect temps from the 20s to the 70s — I've had my eye open for items more technical in nature. Mountain Hardwear and their jackets popped up on my radar at the Outdoor Retailer Show this summer.
So what's the Mountain Hardwear Plasmic Jacket got that will make my trek experience better?
Well, first, and most important to a traveler, is that it's super lightweight at 9.6 ounces. But it's more than just being lightweight.
I can slip the Plasmic over layers while still being protected from the rain (which we'll surely encounter on the trek). The front zipper is water resistant and the sleeves have Velcro closures to prevent wind and rain from getting in. Two zippered side pockets feature a small flap to protect them from the elements. The drawstring waist cinches the bottom closed for added protection and warmth.
The large hood flips over to give lots of protection for your head. Drawstrings on either side allow you to pull it tight and around your face, and another drawstring in the back allows you to cinch it down a bit tighter.
Though I haven't worn it in a downpour, it is waterproof and I expect it will be able to repel the heaviest of rains I might encounter, be it in Seattle or the Himalayas.
What I Love
It's incredibly light and perfect for packing down – whether in my luggage for the trip to my destination or in a backpack during a trek
Excellent price at $140 for a very lightweight shell
Not So Much
The sizing (I have a size small) is perfect for a shirt and fleece but might be a little tight for something more than that
I love me some inside pockets and there are none on the Plasmic
Did I mention how lightweight it is? It's SO lightweight :-).
Available on Amazon for about $135.
Travel Well,
Beth
Disclosure: Mountain Hardwear sent this jacket to me for review. Regardless, everything I have said in the post reflects my honest opinions.