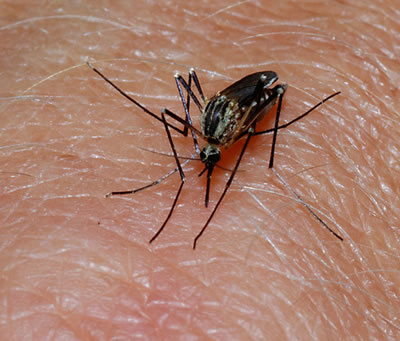 Only once have I experienced more mosquitoes than I just did in the Sepik.
The other time was a visit to the Jersey Shore not too long ago. Jon and I visited my brother and his family "down the shore" (as Jerseyites say) one summer. Arriving at our bed and breakfast after dinner, we walked from the parking lot to the entrance and had to make our way through a swarm of mosquitoes. In just a few minutes I had at least a dozen bites.
And while that swarm is indelibly burned into my brain, 3 days of almost non-stop fighting with mosquitoes in the Sepik River region of Papua New Guinea gave me a whole new respect for the people who live there. How they survive day and night with these insects I do not know.
I asked our guide if he had ever had malaria. "I get it every 3 years," was his answer. He was due for another bout. It made me concerned about the mosquitoes hopping from him to my group.
On my previous trip to Papua New Guinea (which did not include the Sepik), I did have to battle mosquitoes, but the 2 natural mosquito repellents I used on that trip worked well. So I suggested to my group that a DEET-based product was not necessary. Despite that, many did use it.
But it didn't matter.
A comparison of bites showed that no matter what we used to deter them, if we were prone to bites already, nothing would stop the little buggers. They ate through my Insect Shield clothes and were not put off by my lemongrass-based essential oils or Avon's Skin-So-Soft with Bug Guard. Nor were they deterred by the DEET that some others used.
The one thing that did at least keep them away from me at night was my Mombasa mosquito net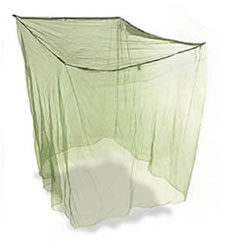 . I actually brought 2 with me to test out on the trip: the Outback Single (right, which I used) and the Nimbus (below, which Carmyn used).
Fortunately, our homestay was outfitted with hooks in the ceiling so that we could easily hang the nets – whether we had a rectangular one (with 4 hooks like the Outback) or a draping one (with one hook at the top, like the Nimbus).
Both mosquito nets kept the bugs out super well. We simply tucked the bottom of the net underneath our sleeping pads and nothing could get in. Both of these nets were treated with repellent by the manufacturer though they are available without treatment. (Having that added protection lessens the likelihood that they'll be attracted to your skin if you are touching the net.)
I preferred the Outback because I had a bit more room to move than what the Nimbus appeared to provide. Carmyn said that she didn't feel like the net was touching her throughout the night (giving the skeeters the possibility for more feeding) but it did look just a bit more claustrophobic.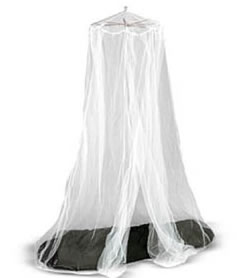 One afternoon I did try to nap inside the mosquito net. It was stifling hot with lightening and thunder nearby. As great as the Outback was for keeping out mosquitoes, it also kept out any sort of breeze and I ended up sleeping outside of it because it was just way too hot. Unfortunately there's no getting around this (unless they also ship it with a battery powered fan!).
I continued to get bitten when dashing off to the bathroom, walking down to the river to get in our canoe or just sitting in our outdoor dining room. I thought about that mosquito net program where you give $10 and buy a net for a developing country. No doubt that it's a great program, but I have to wonder really how many people they are saving from getting malaria when those persistent guys are a near-constant threat. Yes, 8 hours of reprieve is fantastic but, I'm just wondering out loud, are those really preventing malaria? Anyone know?
Most of the group left their mosquito nets with our guide so that he could share with the villagers or other travelers could use them in the future. It was our own little pay-it-forward program 🙂
Mosquito season is nearly over here in North America but if you're headed overseas where you're likely to encounter them (and nets aren't provided), two thumbs up for the Mombasa mosquito nets!
Travel Well!
Beth
Related links:
Coming Home: The Bittersweet Truth
Return to Papua New Guinea
Papua New Guinea Tours
Photo credits:
Mosquito: dr_relling