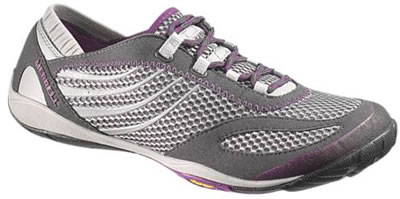 I've been running for just over a year and consider myself a newbie still. Mostly because I'm rather slow and, while three miles isn't quite my limit, it's what I'm comfortable with on a regular basis (every other day at least).
A year also really isn't much time to develop a storehouse of running gear, like some people have. Yup, I do have a watch with a timer, I've got my SpiBelt that holds my iPod (loaded with playlists perfect for running) and I have enough technical tops and bottoms to keep me happy.
And, I was quite fine running in my New Balance sneakers until I tried to travel with these. The whole idea of me starting to run was that it would be a way for me to exercise anywhere. I'm away so much that my gym membership was going to waste and I can't always count on hotels having a gym. With running, I could just walk out the door and get my aerobics in where ever I am in the world (save for the heat of Bangkok – ack!).
But the problem with your average running shoe is that it takes up a tremendous amount of space in the luggage. So I was back to this not really being an ideal solution. That is until I spied the Merrell Barefoot collection at REI.
I've just started running in these and am solidly loving them.
With a Vibram sole, these are halfway between your traditional running shoes and Vibram Five
Fingers. They (obviously) provide protection from the ground but because the bottoms are flat, it forces you to land with more of a mid-foot or flat landing. I know people who run by striking the ball of their feet first. With the Merrell Barefoots, I was expecting more of that feeling, but it's so subtle that it's barely noticeable.
In doing some research into these, I had heard that you needed to slowly work your way into wearing Vibrams (limiting your runs to begin with) because you're working a whole new set of muscles. But I was so excited to test these out that on my first run I did my usual three miles and, with the exception of a little tightness in my calves because they were working a bit harder, I had no pain over the following days.
At the recommendation of the Merrell site, I've also changed my stride a bit, taking (even) shorter steps (they recommend 180/minute). I'm not sure if it's the shoes, the stride or the fact that I was totally inspired by watching the movie Running the Sahara, but in any case, my time has picked up on that three mile run and I'm faster than I have ever been. That's encouraging!
All of this makes me so excited to travel and to pack these away on my next trip because they are going to take up about ¼ of the space that my New Balance sneakers take up.
What I Love
Light weight and packable
New way of running seems to agree with me (running faster, more energized)
Not over the top expensive
Not So Much
I'm usually a size 8 but need an 8.5 in these
Bottoms are slightly slippery – I have to be careful going up/down hills and also in wet weather
Would I recommend these? Absolutely. Great for travelers, non-travelers, runners AND non-runners. I don't think you have to be a runner to really get a lot of use out of these.
Available starting at $70 on Amazon.
Travel Well,
Beth
Related links:
Recommended Running Gear