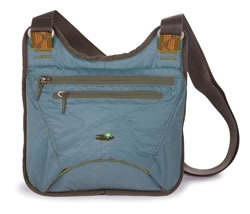 You likely know from reading this column that whether I'm going on a big trip or running off to the grocery store, I like to travel light.
With the Daybreak Shoulder Bag from Lilypond, I can tuck just a few items in one of the 3 zippered pockets and be ready for an outing.
There are 2 front pockets. The top one is roomy enough to hold a small notebook, wallet, keys and a few other items while the lower pocket is just large enough for a cell phone.  Keeping it in that small front pocket also means you've got quick access to it.
The back of the bag features another zippered pocket which is perfect for papers and a passport – items that are going to lie flat against your body.
The shoulder strap is adjustable and the bag comes in a variety of colors that are feminine enough to be appealing to gals but not garish or bright, like some girly-looking bags can be.
Available from Amazon for about $40.
And whil I think these folks have done a fantastic job at creating bags that are appealing to the women's market, like the Lilypond Meadowlark 21″ Rolling Duffel that I've reviewed, I think this could use just a bit of tweaking.
The bag tries to be both a flat shoulder bag that you might use for a few items but then has a pocket large enough that the bottom can extend down to hold larger things. It actually seems a bit awkward when you have very few things in it, as if you're looking at a 2D bag.
Lilypond products are well made and the design work is the best I've seen in terms of travel gear for women. If you're looking for a bag that's just slightly larger than most shoulder bags, the Daybreak Shoulder Bag is a great option.
Available from Amazon for about $40.
Travel Well,
Beth
Related Links
Travel Clothes Gift Guide
Stocking Stuffers for Travelers (2010)
Best Holiday Gifts for Travelers
Stocking Stuffers for Travelers (2009)