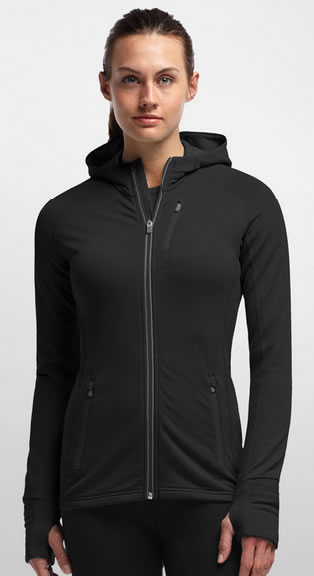 You might recall from my post in the fall reviewing the Icebreaker Tech Top that I'm a relative newcomer to the Icebreaker bandwagon. It wasn't until I really started hiking in warm weather that I "got" the value of merino wool. I hiked day after day on the Snowman Trek in that Tech Top and it held up really well. And by held up, I mean the natural odor resistance properties of merino did its job. 🙂
Now that I'm such an Icebreaker fan, I had to add the Icebreaker Quantum Long Sleeve Zip Hood to my layers.
This is a breathable merino top that makes for a great midlayer in cold weather (think: hiking, skiing, snowshoeing) as well as an excellent outer layer for spring and fall days when all you need is a lighter jacket.
With spring-like weather throughout February and early March here in Seattle, I've already found it to be great for neighborhood walks. But this will also be perfect for wearing in-flight when my travels pick up again in April. It'll also be ideal at destinations where the weather is cool (I'm thinking Maui at night this April).
Even though merino wool will keep you quite warm, it tends to be on the thin side. This means it will pack down really well making it ideal for stashing in a backpack or luggage.
What I Love
Thumb holes. Need I say more about this feature I've come to expect on all my jackets?
A mesh material runs from the underarm to the bottom of the sleeve. This provides some breathability and airflow which is really nice, particularly when I start to warm up on a walk or run.
There are two zippered hand pockets as well as a zippered chest pocket (great for an ID or some cash).
The hood is lightweight so it provides coverage for my head but doesn't make me heat up too much.
Icebreaker clothes are not cheap, but I fully expect this jacket to last a long time and that it will come with me on the Snowman Trek when I return in late 2016.
The size small is pretty trim on me but I think the medium would be a bit big. And damnit I'd rather wear a small. 🙂
My only complaint is that Jon now has this same jacket, also in black. So we now have to coordinate who gets to wear theirs when we go out. I have seen the new colors coming out in the fall so I just may have to pick up a second one in purple.
Available now in Black, Panther, Aquamarine and Grapefruit for about $220 on the Icebreaker website.
Be Bold,
Beth
Want to stay up-to-date on all things Wanderlust? Follow me on Facebook, Twitter or RSS/email.
Disclosure: Icebreaker provided this jacket to me for review. Regardless, everything I have said in the post reflects my honest opinions.