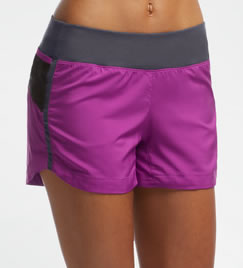 I couldn't have anticipated at the beginning of this summer that these Icebreaker Cool-Lite Spark Shorts would get so much use in such a short amount of time. Meant for warm weather, I've been wearing these often during my runs in Seattle because of our record-breaking temps. (No complaints, I'm loving it!)
The material is an ultralight recycled Polyester outer with a Tencil/Nylon/merino liner that keeps everything cool and breathable. Yeup, I'm still sweating, but at least these don't stick to my backside and legs when I do.
In terms of the fit, there's a drawstring inside of that wide waistband that helps provide a snug fit.
My favorite feature is the back stash pocket where I can keep either a Gu gel packet, my car
key or hotel room key. I don't know how people run in shorts that don't have a little stash pocket like this!
These are great for traveling because they scrunch down quite small. I can literally squeeze them into a running shoe to save on space and they weigh next to nothing.
Because I'm doing the Honolulu Marathon in December, I can't take a break from running, even when I'm traveling. So, you can bet these are coming to Bali and Java with me this fall. (Now I just gotta work on my tan and shedding some belly weight so I can look like this photo!)
Available on Amazon at various prices depending on size.
Be Bold,
Beth
Want to stay up-to-date on all things Wanderlust? Follow me on Facebook, Twitter or RSS/email.
Disclosure: Icebreaker provided these shorts to me for review. Regardless, everything I have said in the post reflects my honest opinions.