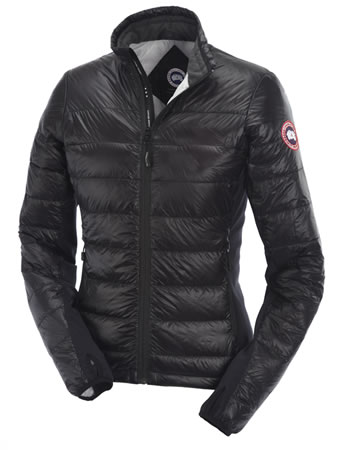 Yes, spring has sprung. But here in the Pacific Northwest, our nights are still quite chilly. As a matter of fact, during last weekend's getaway to Portland (where temps are usually a wee bit warmer than Seattle), I regretted not having a wool hat with me. What all this means is that despite initially wanting to test out the HyBridge Lite Jacket from Canada Goose as a travel piece, I've actually had numerous opportunities to wear it locally.
I met with these folks at the Outdoor Retailer Show in January and learned of their history. (Yup, I'm one of those people that when I first heard "Canada Goose" I thought of "Grey Goose" the vodka company.) But this 50+ year old company didn't start with alcohol, they started with Big Red, the Arctic jacket commonly seen worn at the North and South poles and known for its life-saving warmth.
I don't need Big Red. I need something that will travel well (pack down relatively small) but still keep me warm in places like Bhutan (which is relatively warm when compared to the Poles).
As you can see from the photo, the HyBridge Lite is form-fitting – the cut is really nice. Actually, the best I've seen in a winter jacket. While it features the down insulation the company is best known for, it's also quite thin. So, it's really warm but not bulky.
For those who like 'em (and I do), it's got thumb holes. I always find this gives me a little extra warmth when I pull them over my gloves. The pockets have a bit of stretch to them and are lined – so when you slip your hands in without gloves, you can feel a bit of warmth in there, too.
I know it's late in the season, but if you're still looking for a jacket for outdoor activities or your travels are taking you to the mountains, the HyBridge Lite is a great option. These jackets aren't cheap but I bet it's a jacket that'll last you for years – whether you're using it for travel or winter sports at home.
What I Love
It's one of the best fitting jackets I own. Really well designed for the female figure.
It's really warm. Even in wind, my core doesn't feel it.
The Powerstretch material along the arms allows a little give for added mobility.
It packs down into its own pocket making it super easy to travel with.
Not So Much
The one downside to having the Powerstretch material on the arms is that when the wind is blowing, I can feel it through the sleeves. An added layer underneath alleviates this.
Overall, two thumb(hole)s up.
Available on Amazon for about $500.
Travel Well,
Beth