Here's a roundup of some of my favorite travel clothes…
Isis Vendi Jacket – This jacket is great for cool, inclement weather. It's got a thin waterproof/breathable membrane with a moisture-wicking microfleece interior. The stretch polyester has enough give so that you can do your outdoor sporty stuff without feeling restrained. Great for wet and windy conditions.
**********
ExOfficio Convertible Pants – These lightweight pants from ExOfficio zip off into shorts and feature Buzz Off insect repellent. The real beauty, however, is that they wash up easily and dry quickly. You can literally rinse them in your hotel sink at night and they'll be dry by morning. Available on Amazon for $42.
**********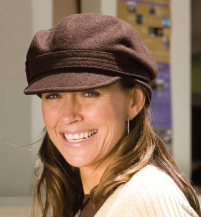 Wallaroo Devon Hat – This 100% wool hat from Wallaroo will surely keep you warm this winter. It's got 2″ pageboy brim and fabric-covered buckle that wraps around the cap. The inner lining is satin and it features an internal drawstring so you can easily adjust it for a custom fit. Available from Wallaroo for $40.
**********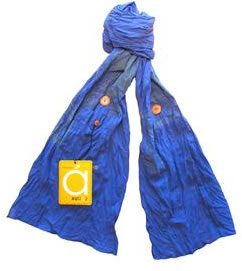 Xubaz Scarf – This fun and functional scarf is made of soft lightweight cotton. Built into the scarf are 2 hidden pockets, one secured with a zipper, the other with a button. This allows you to have easy access to some money or ID for those times you don't want to carry around a purse. Available from Xubaz for about $27.
**********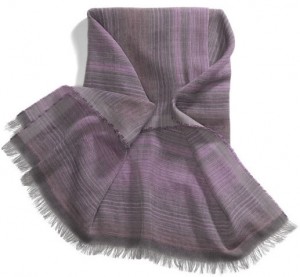 Nau Wide Merrino Barre Scarf – Perfect for your fall/winter closet is this scarf from Nau. Though it's sold as a scarf, it's large enough (15 feet of fabric!) that it actually makes a great shawl that'll keep you nice and warm. It's made of fine Italian wool making it classy enough to wear with a dress. Available from Nau for $98.
**********
Horny Toad Rookie Top – This top from Horny Toad has proven to be a versatile item in both my closet and my luggage. It's made of organic cotton and is soft and lightweight (read: easy to pack). It looks great on its own AND by adding a short-sleeve tee underneath, you've got an extra layer to keep you warm. Available on Amazon for less than $50.
**********
Tilley Venture Trek Jacket – While other manufacturers' adventure jackets tend to be more masculine, this one is tapered at the waist, providing a nice feminine touch. The two outer pockets are zippered to keep your items safe and one interior pocket has Velcro to make it easy to grab its contents. Bonus: the jacket converts into a vest when you zip off the sleeves.
**********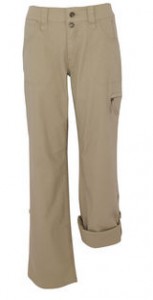 Royal Robbins Sidney Convertible Pants – These pants make for a totally comfortable fit as they are made from a stretch canvas (great for when those buffets get the better of you!). The style is trendy, with flare bottoms and a low cut waist. The cool feature, however, is that you have the ability to roll them up into capris, for those times you might be wading through a stream or you just need to cool off a bit. Available from Amazon for about $32.
**********
Outdoor Research Ferrosi Hoody – This lightweight, water-resistant softshell jacket packs up light and will give you some protection from wind and light rain. In Bhutan, I have found it perfect as an outer shell during the day to protect against light wind and cool air and layer it underneath a heavier jacket in the cooler Himalayan evenings.
**********
Isis Bikini Underwear – These bikinis are perfect for travel as they are quick drying – giving you the ability to wash and dry in your hotel room or campsite. They're made of a nylon/polyester blend and are perfectly comfortable for active travelers. Available on Amazon starting at $8.
**********
Related Links:
Stocking Stuffers for Travelers (2010)
Best Holiday Gifts for Travelers
Stocking Stuffers for Travelers (2009)