Looking for the some gifts? Here's my annual holiday gift guide for women travelers (or for you – HA HA):

**********
Taos Classic Slipper — There's gotta be a statistic on the number of women who ask for slippers for Christmas. If you're one of them, consider adding the Taos Classic to your list. Though it's a slip-on, you can rest assured that it won't slip off as you're walking around the house or your hotel room. The insole has a nice grip that'll keep it snug on your foot. These are perfect for road trip vacations. Available on Amazon for about $90.
**********
Columbia Black Beauty Pants – These are great for wandering around the hotel, doing yoga or just relaxing in your hotel room. They've got a nice stretch to them so there's a little give for those times when you may have overeaten and there's a UPF 50 built in if you plan to be active outdoors. They're water repellent, too, so if you get caught in the rain, you're covered, so to speak. They are quite lightweight so I wouldn't recommend these in cool temps. Available on Amazon starting at $45.
**********
Aroamas Perfume Stick – I've tested out a variety of perfumes that travel well including sample bottles of liquid perfumes as well as other perfume sticks. These are the best I've come across because the fragrance actually lasts. They're also nice and small so they don't take up much room in your toiletry bag. Available on Etsy for less than $7.50 a stick.
**********
Elemental Herbs All Good Lips — Despite the name, I don't wear lipstick. But I do love me a good lip balm and am never without one or two close at hand. All Good Lips come in a variety of tints and all have a hint of peppermint essential oil for a nice flavor. These are a great alternative to more dramatic lipstick colors or plain lip balms. Available on the Elemental Herbs site for about $5/each.
**********

Sea to Summit Pocket Soaps – These items are really quite brilliant. Each small container includes 50 dry "leaves" that, once wet, soap up into their respective item – shampoo, hand wash, body wash, shaving soap or laundry wash. Perfect for when you don't have any room left for liquids in your toiletry case. There's no spillage and they are easy to ration for longer trips. Available on Amazon for under $7.50.
**********
Justin's Nut Butter Packets – You should see the look on my seatmates' faces on flights when I whip out an apple and squeeze some Justin's Hazelnut Blend onto it. Jealousy, I tell you. Having once had a jar of peanut butter taken away from me at airport security, I learned to carry these little packets with me to enjoy on my trips. Peanut Butter available on Amazon for under $10 for 10 packets.
**********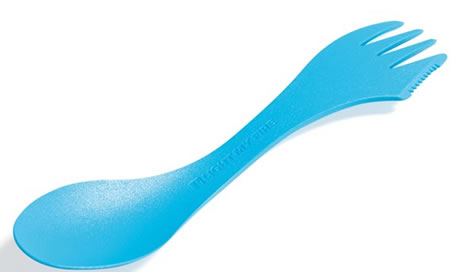 Spork from Light My Fire – Definitely one of the most low-tech but high-fun travel items I carry with me on nearly every trip. You just never know when you'll need to dive into, I dunno, a container of yogurt? I can always find some use for a spork. Available on Amazon for $10 for four.
**********
Bassboomz – You'll get a lot of sound out of this little bluetooth enabled speaker. Hook it up to your iPhone, iPad or computer and you've got instant music or podcasts in your hotel room. Loud enough to play for a group of people or just to enjoy by yourself poolside. Available on Amazon for under $45.
**********
Have fun shopping and don't let the holidays get you too stressed!
Travel Well,
Beth
Disclosure: Some items on this page were sent to me for review. Regardless, everything I have said in the post reflects my honest opinions.