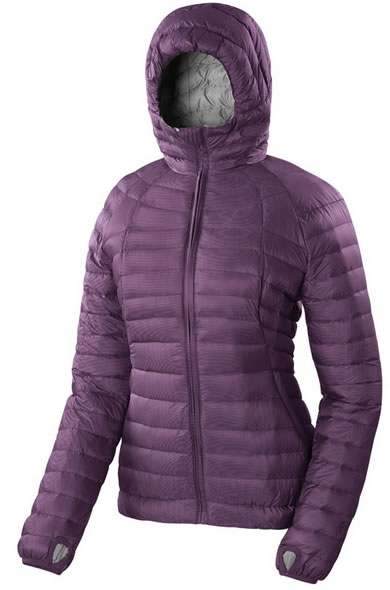 Sierra Designs Elite DriDown Hoody – They say there's no such thing as bad weather, only inappropriate clothing. That is to say, there's nothing better than having the right gear.
I definitely scored on this one when I wore the Elite DriDown Hoody from Sierra Designs on the Snowman Trek. I wore this on most days throughout the 25-day trek in Bhutan. At 18,000 feet I can't say I was necessarily toasty, but I was definitely warm. And dry.
This jacket is an 850 fill, making it one of the warmest jackets on the market. I love the thumb holes and the hood that comes up around my neck for additional warmth.
The folks at Sierra Designs have done a great job at creating a feminine cut so I don't feel totally bulky in it. Even with this form-fitting style, I can easily wear a base layer as well as a hoody underneath it for additional warmth.
Though I don't know that it was meant to do so, I'm able to stuff the jacket down into its own pocket so it's easy to pack away. Which is exactly what I'm going to do when I take off to hike Mt. Kilimanjaro in January!
But this isn't just for campers and hikers. The weather has literally been freezing in Seattle this December so this baby's been getting a lot of use here as well.
The jacket happens to be on sale on the Sierra Designs website! It's currently half price and is available in several colors (including purple!).
*****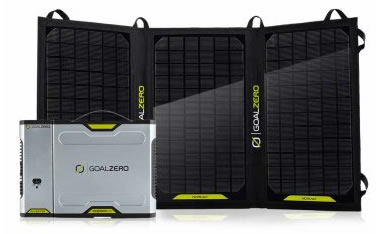 Goal Zero solar and portable power chargers – I had tested out solar power units from several companies before finally discovering Goal Zero a few years ago. It would take a miracle for me to be persuaded to use anything but Goal Zero in the future.
On the Snowman Trek (during which we only had access to electrical power once), I carried several Goal Zero charging units including the Sherpa 100 Kit (pictured above), the Venture 30 Recharger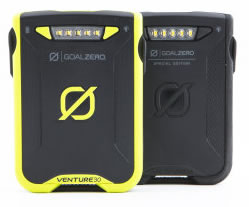 (right) and the Flip 20 Charger (below).
The Sherpa 100 ain't cheap ($550) and it is a bit heavy (4.4 pounds), but if you're a serious trekker/camper and are headed out for a long adventure, you'll need some way to power up your devices. The Sherpa 100 is a great option for that. The kit includes the solar panels as well as the battery. The battery includes two ultra-fast, smart USBs for phones or tablets, a 12V port, a port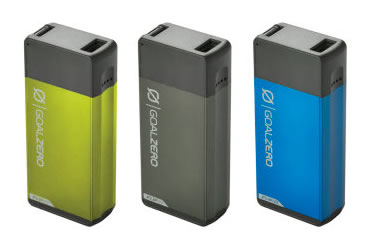 specifically for laptops and a detachable AC inverter for DSLR cameras. Having all of these options was ideal for us with all of our camera gear and devices on the trek.
If you don't need something so robust and are simply looking for some auxiliary power, consider the Flip 20 or Venture 30. The Flip 20 provides multiple charges for USB devices such as an iPhone. The Venture 30 will give you a bit more in the charge department but it's nearly indestructible. Well, not really. But it is weatherproof and if you did drop it, it's going to hold up a lot better than the Flip 20.
These (and many more) are all available on the Goal Zero site.
*****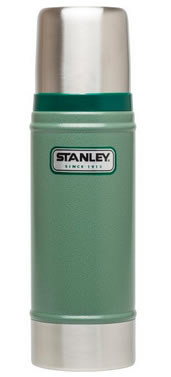 Stanley Classic Vacuum Insulated Bottle – You kinda can't go camping without a thermos, ya know?
We had this Stanley Classic 16 ounce bottle with us on the Snowman Trek. This Classic thermos is fully insulated and is advertised as keeping liquids hot for 15 hours and cold liquids cool for up to 60 hours. Only having experienced usage for hot drinks (because who wants a cold drink in the Himalayas?!) I can only speak to how it worked for a hot liquid.
First, I have to admit that we didn't get the kind of usage out of it that we thought we might. But that was because we had porters bringing us tea each morning and just didn't have the need to use it very often.
When Jon and I did fill up our Stanley at night so that we didn't have to wait for tea to be brought to us in the morning, it was a lovely treat. Especially considering we used it for hot cocoa (at 6 a.m.)!
I would say that probably eight hours elapsed from the time we had the bottle filled to when we used the hot water. By that time it wasn't exactly piping hot. But it was definitely warm enough to enjoy some hot cocoa before breakfast. To be fair, at 16,000 feet and freezing conditions, we were really putting it to the test. I would imagine that if one were to camp with it under temps well over freezing and at much lower elevation, then your liquid should be hotter than what we experienced.
Water temps aside, almost more important was the fact that the bottle didn't leak! Phew!! That was my biggest fear. That I would wake up to a wet and cold tent because the water had spilled out. But the screw top kept everything well sealed inside.
Now that we're back home, we plan to keep taking this on camping trips as well as on picnics (which we like to do often as long as the weather cooperates in Seattle).
Available on Amazon for about $25.
*****
Sea to Summit Comfort Plus Insulated Mat – I'm embarrassed to admit what type of sleeping pad I brought with me on the Snowman Trek two years ago. It was big and bulky and way heavier than it should have been. When I was at the Outdoor Retailer Show in August and discovered the Sea to Summit Comfort Plus Insulated Mat, you could probably hear my squeals of delight throughout the tradeshow floor. I couldn't believe how small this sleeping mat packed down and that it has an R-value of 5, the highest rating of a pad to insulate and keep you warm.
We slept some nights at over 16,000 feet and most other nights between 11,000 and 14,000. Needless to say it was cold. But with this mat, I never felt like I was sleeping on the cold ground.
This sleeping mat has dual layers meaning both sides of it get blown up, providing some extra space between you and the ground. There's no air loss between breaths as you're blowing it up as the valve is constructed as such that no air escapes unless you unlock the lower valve.
Available on Amazon for about $200.
*****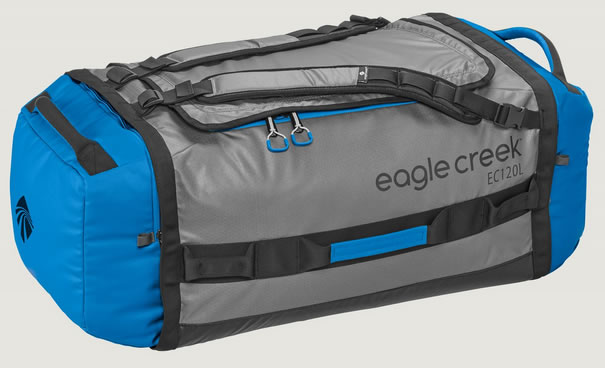 Eagle Creek Cargo Hauler Duffel – It seems I'm starting to make a habit out of these big treks/camping trips. In January, I'm headed off to hike Mt. Kilimanjaro. This Eagle Creek Cargo Hauler Duffel is coming with me (just as it was with me in Bhutan).
This bag (which comes in 45, 60, 90 and 120 liters) can serve a lot of purposes. For the Snowman Trek, most of my gear was kept in my 120 liter bag. This was then placed in a plastic bag and then into a wicker basket which was then strapped to a pony. Despite being slipped into a plastic bag, my duffel needed to be water resistant for added protection. And it need to be soft-sided in order to fit in the basket. So many requirements! Luckily it stood up really well. Well enough that this is also coming on safari with me next month.
Available on Amazon for various prices and sizes.
*****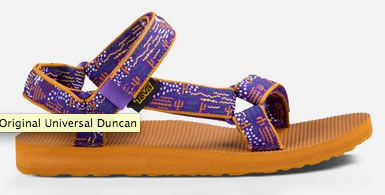 Teva Artist Series Sandals – Teva created this series in collaboration with artists who were tasked to come up with design for the shoes' webbing. There are three styles but these are my favorite–they're purple and Southwest-ish.
These are the same great Teva's but with a funky style!
PS – I know it's winter. But it IS gift giving time AND how many of you are heading to warm destinations this winter?? These are great travel shoes if you're headed to the beach but also make great sandals to change into at camp when you start heading outdoors in the spring.
They're on sale now on the Teva site. Hurry as some of the sizes are already sold out.
Be Bold,
Beth
Want to stay up-to-date on all things Wanderlust? Follow me on Facebook, Instagram or RSS/email.
Disclosure: Items above were provided to me for free to review. Regardless, everything I have said in the post reflects my honest opinions.