I learned the value of a good duffel bag while trekking in Bhutan. My Eagle Creek duffel on the trek held all of my possessions for that 25-day trip and was carried each day on the back of a pony. Though it was placed inside a sturdy plastic bag which was, in turn, inside a rattan container, the bag was still exposed to regular rain and snow. It held up well so no complaints here.
But for a few reasons, I'm kind of excited about using the Granite Gear Packable Duffel the next time I trek.
First, this 20″ duffel is weather resistant. Because of the Taurpalite fabric, my spidey sense tells me that my items will be safe from everything except a dunk in a river (which hopefully will never happen!).
Second, this smaller duffel has backpack straps on it so if I ever need to just throw it over my shoulders (like when crossing a river), it's easy enough to do so.
The shoulder strap is removable so I don't have to worry about it getting caught in the baggage carousel if I have to check this on a flight. And the bag packs down so small that if I need to just carry it on a trip and use it for souvenirs on my return home, it doesn't take up that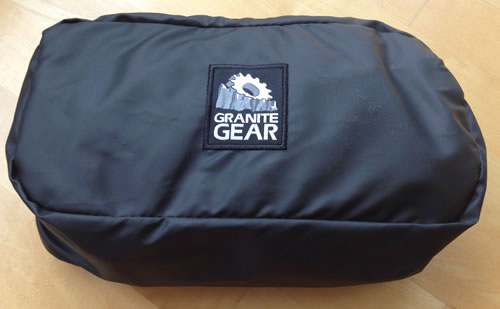 much room. Also, the carrying in which the duffel comes can be used as another small bag. Stuff it with clothes and I've got a pillow!
The stitching appears to be really strong so I have no concern about it coming apart during use, even as it's bouncing around on the back of a pony.
Other uses? I can totally see packing this up for a weekend getaway.
The Granite Gear Packable Duffel comes in three colors: Basalt, Black and Red Rock.
It's available on Amazon for about $50.
Be Bold,
Beth
Want to stay up-to-date on all things Wanderlust? Follow me on Facebook, Twitter or RSS/email.
Disclosure: Granite Gear provided this duffel to me for review. Regardless, everything I have said in the post reflects my honest opinions.