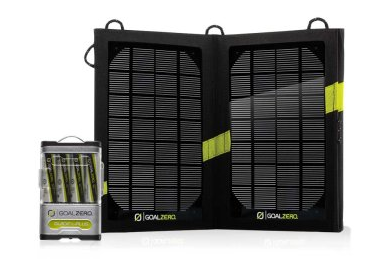 A friend had been telling me for a good eight months that Goal Zero was THE company to check out for solar powered products. After testing a number of units from other companies and being disappointed with the results, I had been kinda desperate to find something that worked. I know, I was testing out solar powered products in Seattle, where the sun don't always shine. But still…something had to work, right?
Specifically I was looking for something to bring on the Snowman Trek. We'd be hiking and without power for 25 days and I needed something that could charge a few USB-powered items such as my iPod and iPhone (for photos as there was no cell service) as well as items that needed a power plug for both our small and large digital cameras.
Turns out, between a few of us on the trek, we had three different Goal Zero chargers. The one I carried was the Guide 10 Plus Kit (pictured above). Included in this kit is:
The Nomad 7 Solar Panel which is actually two panels that are attached but fold together to save space
The Guide 10 Recharger which recharges AA and AAA batteries using the Nomad 7 Solar Panel
The solar panel is light enough and small enough that I easily hung it off my backpack.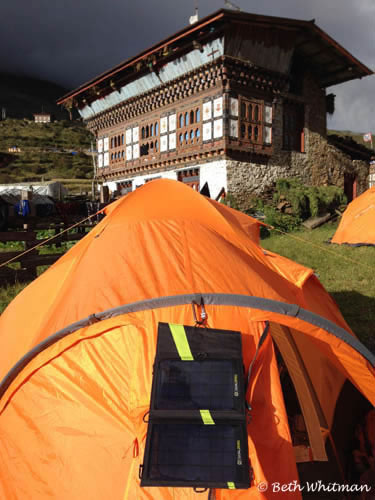 When we were hiking in full sun (which was often after the first week), it charged up just fine. On our few rest days, I'd just hang it on the tent and let it soak up rays for the day.
I used this most often by plugging my USB connection directly into the back of the panel and charging my various "i" items. While the Guide 10 Recharger is for batteries, I found that I rarely used this. Mostly because the few items I had that used AA or AAA batteries ate through batteries really quickly, be it alkaline or rechargeable. It was easier to just use the alkalines that I brought with me.
In the future, I would definitely carry the Nomad 7 Solar Panel with me as I used this almost every day. I would, however, think twice about bringing the Guide 10 Recharger. I just didn't get enough use out of it and with so little space in my bag, it would be helpful to cut back where I can.
The Goal Zero Guide Plus Kit is available on Amazon for about $120.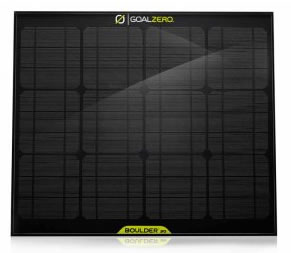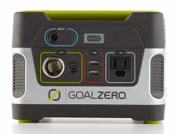 We also had the Goal Zero Yeti 150 power charger and the Goal Zero Boulder 30 panel. Often, our guide would carry the charger in his large pack and hang the panel off it to get as much sunlight as possible. It was heavy but he was motivated to do so because he, as well as the rest of our Bhutanese crew, wanted to have fully charged phones so that when they did have service they could chat with family and friends.
We also needed to power a laptop and video camera, hence this monster of a power supply.
Note that if you plan on flying with the Yeti 150 it could get confiscated by the airlines as some consider this a battery and unfit for checked luggage. We lost one to All Nippon Airways in Tokyo and nearly had our replacement taken by Korean Air in Bangkok.
The Yeti 150 is about $200 on Amazon and the Boulder 30 panel $174 on Amazon.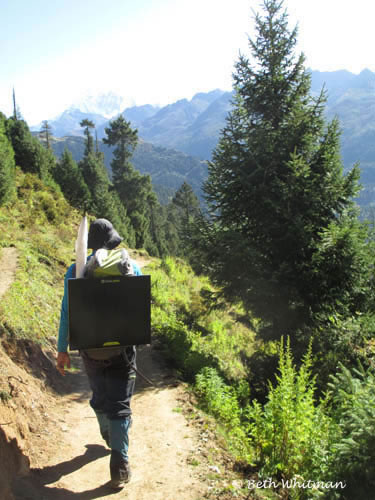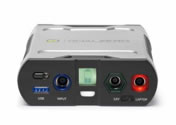 For more modest use, we also had a smaller unit, the Sherpa 50 Power Pack, that allowed us to power up our cameras that needed an electrical (non-USB) source of power.
The Goal Zero Sherpa 50 goes for about $200 on Amazon but keep in mind you also need the solar panels.
Yup, it's likely we were the most powered up group to have done the Snowman. And for sure Goal Zero is coming with us when we return to do the trek again in 2016. 🙂
Be Bold,
Beth
Do you read blogs in Feedly? Click here to add this blog to your Feedly reader.
Disclosure: Goal Zero provided this solar kit to me for review. Regardless, everything I have said in the post reflects my honest opinions.