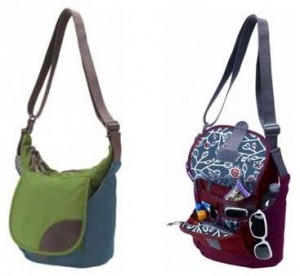 I am just so delighted to announce a partnership with the folks at Overland Equipment.
They have agreed to provide a Donner Bag or Madera Bag for every one of our 2013, 2014Â and 2015Â WanderTours group participants. Is that not awesome?
Both the Donner and the Madera are shoulder bags in comfortable body-hugging design that are large enough (and with enough pockets) to sufficiently hold an outing's worth of stuff including cell phone, journal, sunglasses and snacks. The Donner can even hold a water bottle and a small umbrella in its side pockets.
With the adjustable straps, you can wear them across your chest (to avoid a would-be purse-snatcher in a crowded market) or let them hang from your side when circumstances are right.
In addition to the main compartment, both bags have a front pouch that has multiple pockets of varying sizes. Keep all those need-to-get-to quickly items here (like your lip balm, pens and business cards). Then tuck your Kindle, journal and phrasebook in the main compartment.
There are also zippered pockets for passport and money.
The Donner and Madera come in several chic colors.
Best of all? When you book one of our trips, you'll get to add one of these to your packing list :-).
Travel Well,
Beth
The Donner or Madera Bag fine print:
 * Only includes group tours with a departure date in 2013, 2014 and 2015.
 * Based on colors available at time of ordering.
 * Overland Equipment will ship approximately three weeks after your registration is received.