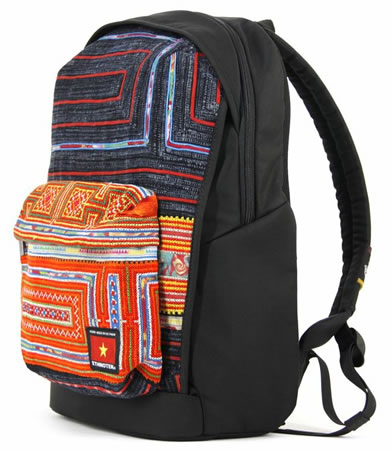 "You totally need to bring that bag with you." This is Jon's new mantra every time I go on a trip. It's not the type of bag he'd use, but he thinks the Ethnotek Wayu bag is so "me" that he seems a bit disappointed if I take a different bag with me on a trip.
First, allow me to tell you a bit about the Ethnotek story. The company, based in Minnesota, manufacturers backpacks, messenger and laptop bags as well as accessories that feature textiles sourced from around the world including some of my favorite destinations: Vietnam, India, and Indonesia. The co-founders work directly with villagers to produce panels (the woven front that Ethnotek calls the THREAD) which can be swapped out so that if you tire of one style (or simply like a change), you can do so without buying an entirely new bag.
Buying directly from the source and working with the villagers means that Ethnotek is not only supporting families and communities in these countries but they are also keeping traditional crafts alive.
The bags themselves are very sturdy, constructed from materials that hold their shape. Most backpacks/laptop bags that I've tested tip over when I set them down, or they compress when they aren't full. Not so with the Ethnotek. The Wayu stands up straight and stays stiff (but still quite pliable) all around.
In the main compartment, the Wayu has a padded sleeve for my laptop and an interior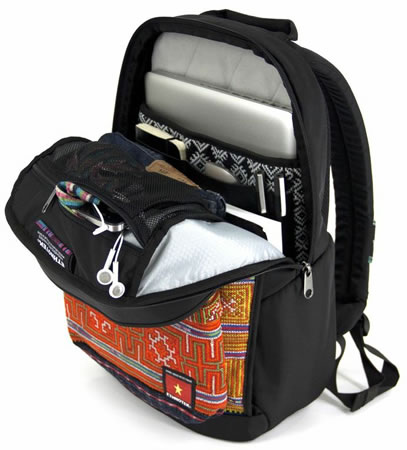 zippered pouch — this is where I store a few snacks (mainly protein bars) and my house keys. The front exterior has a zippered pocket that's roomy enough for several items such as a cell phone, small camera, and a couple of pockets perfect for business cards and pens.
There are also two smallish, zippered side pockets. These are just large enough to hold a small packet of tissues in one pocket and my XShot camera extender in the other.
What I Love
-Â Â Â  The story of Ethnotek has really won me over. I've met the co-founders and appreciate their love and commitment to working directly with villagers. These guys are dedicated to creating jobs for people in these communities and to helping keep traditional weaving alive.
-Â Â Â  The sturdiness and shape of the Wayu and the fact that it sits upright without falling over (even when not full).
-Â Â  Â The textile front. My Wayu, with a Vietnames panel, has COLOR and life to it. It really says, "I love to travel!"
Not So Much
-Â Â  Â The fact that there are no side panels for a water bottle. I usually carry my own water bottle when I travel and am resistant to keeping it in the same compartment where my laptop is (even if divided by a sleeve). I did inquire about this with the folks at Ethnotek and was told that this was intentional in order to keep the "design lower-profile." Still — I could live with a bit more girth if it meant I had a holder for my water bottle. If you're like me, the Raja Pack might be a better option as it does have room for a water bottle.
-Â Â  Â There's no key holder. I love key holders so that I know exactly where to find my house keys when I arrive home from a trip.
-Â Â  Â The side pockets unzip in the back. This means I have to take the bag off completely in order to access anything in those pockets.
Even though I've named a few issues with this bag (more than I've outlined in other reviews), I still really like it. Plus, how can I argue with Jon?
The Wayu is available on the site Ethnotek for about $120.
Travel Well,
Beth
Related links:
Sherpani Prima LE bag
Timbuk2 Candybar Backpack
Mountain Khakis Duffel
Briggs & Riley Excursion Backpack