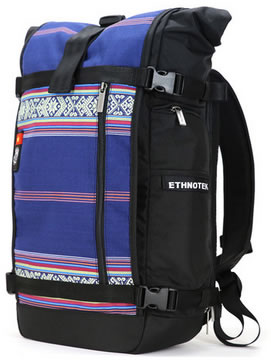 Without a doubt, the daybag I regularly receive the most comments about is my Ethnotek Wayu bag.  Friends, strangers, TSA agents and my tour people have all commented on what a cool looking bag it is.
The Wayu has served me well in most every way. Plenty of space for a laptop, paperwork, camera, sunglasses, phone and other accessories. The only thing I ever felt like it was missing was an exterior holder for a water bottle.
I've had the Wayu for years and, understandably, with so much use, it was starting to show some wear. When I went looking for a new bag, I wanted to stick with Ethnotek. Lucky for me, they now have bags with a water bottle holder. I'm now the proud owner of an Ethnotek Raja Pack 30L.
The Raja is a bit different from the Wayu in that it has a rolltop main compartment rather than a zippered top. Although the rolltop wouldn't have been my first choice in bags, I have to admit I'm starting to get the hang of it.
I've discovered that there are some benefits of a rolltop bag including:
The ability to roll the top of the bag down, making it smaller when I'm not carrying so much. No matter the amount, the bag stays secure with the buckle closing it tight.
Having a bag with a buckle ensures its safety as well as protecting the contents from the weather.
Rolltop aside, my favorite feature is the fact that the Raja has two side pockets: one can accommodate a water bottle (yahoo!) while the other one has room for pens, business cards and a protein bar. There's also a zipper behind the water bottle that allows a side entrance into the main compartment. I have found this helpful when adding items I've forgotten to add and don't want to open up the rolltop.
The front section also has a main zippered pocket perfect for my sunglasses, cell phone and power cord. All items I can get to easily in-flight.
About Ethnotek
So, why do I like Ethnotek so much? Well, these folks source their materials from developing countries including Ghana, Guatemala, India, Indonesia and Vietnam. By purchasing an Ethnotek bag, you're helping support the weavers and artisans from these communities. Most of their bags can be customized by removing the front panel they call a Thread. Each of these Threads is Velcroed on and can be removed and swapped out quite easily. How cool is that?
It's not so easy to find Ethnotek bags in retails stores (although I did find a fantastic display of them at Tokyu Hands in Tokyo), so the best way to purchase them is directly on their website. The Raja Pack goes for about $200.
Be Bold,
Beth
Want to stay up-to-date on all things Wanderlust? Follow me on Facebook, Instagram or RSS/email.
Disclosure: Ethnotek provided this bag for me to review. Regardless, everything I have said in the post reflects my honest opinions.