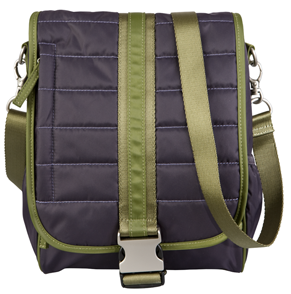 I love my Ellington Annie Crossbody purse. I rarely leave the house without it. But now I'm starting to get quite attached to a slightly larger version of the Annie bag – the Convertible Tote. Dang – now I actually have to make a choice about which one to travel with!
The Annie Convertible Tote has enough room to carry a journal, paperwork, a wallet, cell phone and all the other items I'd need for a day of walking around a city. It's got a separate pocket for each of those items. Plus, a key clip, zippered pockets (inside and out) and an exterior elasticized pocket for a bottle of water or umbrella.
Though I don't wear it this way myself, what gives it the "convertible" name is the fact that you can wear this as a small backpack. The straps

convert and you can just pull it over your back.
The interior is a light, contrasting color, to make it easier to find items inside. And the bag is made from the same durable quality you'll find in all of Ellington's products. Oh, and the nylon material is easy to clean.
OK – well I've just talked myself into making this my daybag any time I don't need my laptop (which obviously doesn't fit inside!).
Available on the Ellington website.
Travel Well,
Beth
Related Links:
Isabella Fiore Carry-on Tote