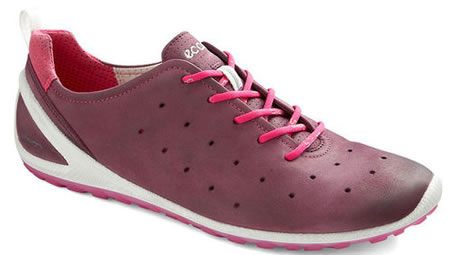 If you're looking for super light travel shoes that will give you a bit of support without any clunkiness (i.e. no stiff sole), try the ECCO BIOM Lite shoes.
These have a soft leather upper and a thin outsole making them flexible, light, easy to pack, and comfortable.
Lately I've been gravitating toward barefoot shoes (I recently took to running in Vibram Five Fingers). With the BIOM Lites, the thin sole is meant to feel like you're barefoot, which ultimately strengthens your feet and lower leg muscles. But even though they are thin-soled,  they definitely give you protection from the elements with a sole that's thicker than most Vibrams.
The BIOM Lites are also narrow. This can sometimes make my size eight foot look clownish. But I think the style, with the laces and perforation on the uppers, takes away some of the impression that it's a long shoe.
What I Love
The (almost) European look
True to size
Thin fit
The contrasty colors between the shoelaces and uppers
Not So Much
Hmmm… I can't thing of anything I'd change on these.
Available on Amazon for under $100 and in several colors including Aubergine/Beetroot (pictured), Black/Poppy, and Warm Grey/Emerald.
Travel Well,
Beth
Related Links:
Oboz Jasper Shoes
Scarpa Caipirinha Shoes