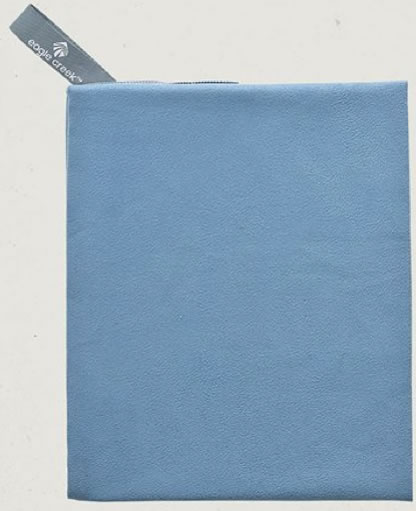 I don't usually travel with my own towel (at least I haven't since my hosteling days) but I had to do so for the Snowman Trek. I knew that towels would not be supplied and even though our showers were few and far between, one would come in handy when I could actually wash up.
I brought along the Eagle Creek travelLite Towel for just such purposes. Travel towels have several properties that make them far more practical to carry along on a trip than traditional towels. A travel towel is:
Super lightweight
Packs down very small
Is more absorbent than a regular towel
Made of a quick drying fabric
The truth is that I, sadly, had far less use for the travelLite Towel on the trek (meaning, ahem, I didn't get to wash up as much as I would have liked) than I had hoped, but when I did use it, it lived up to all features.
Probably most importantly is that it took up very little space in my duffel. It also weighed nearly nothing (well, four ounces) and did its job drying me off.
If you've ever used a travel towel before, you know the truth is that these just don't feel as nice as the towels you've got in your linen closet. The flat-textured material doesn't feel all soft and warm on your skin and it's hard to tell that it's actually absorbing. But it is.
As far as drying goes, I would loved to have seen it dry a bit quicker. But, sheesh, I was above 15,000 feet most of the time in either snow or rain, so in all fairness, it didn't really have the ideal conditions to dry out properly.
The Eagle Creek travelLite Towel comes with a compressible mesh stuff sack so you can keep it wrapped up and away from the rest of your gear.
Available on Amazon for about $20.
Be Bold,
Beth
Do you read blogs in Feedly? Click here to add this blog to your Feedly reader.
Disclosure: Eagle Creek provided this duffel to me for review. Regardless, everything I have said in the post reflects my honest opinions.