Working from home, I like my light walking around jackets a lot. I wear some kind of jacket around the house most every day (maybe I should consider turning up the heat – HA HA). Unfortunately, many of these are heavy hoodies and they don't pack well for travel. They're just too bulky.
I came across the Craghopper Pro Lite Jacket when I was at the Outdoor Retailer Show in January. The feature that sold me on the Pro Lite? It packs away into its own pocket or a small sack! If ever there was a jacket made for travelers, this is it.
The material is a soft (very soft) microfleece that has a tiny bit of stretch to it making it comfortable in-flight as well as during activities.
The Pro Lite also has a really nice trim cut to it. So it's not going to hang bulky like other hoodies.
Though it's difficult to see in this photo, the jacket has two side pockets with zippers. Most hoodies don't have zippered pockets (another #Fail) so more points for Craghoppers. I like to walk out the door with as little stuff on me as possible. If I'm going for a walk and can take a hotel room key, my cell phone and a bit of cash, that's aces. A jacket with zippered pockets allows me to do just that.
There's also a zippered chest pocket. I've never found these super useful (what woman wants to have a cell phone bulking up one side of her chest?) but I suppose a bit of cash or a house key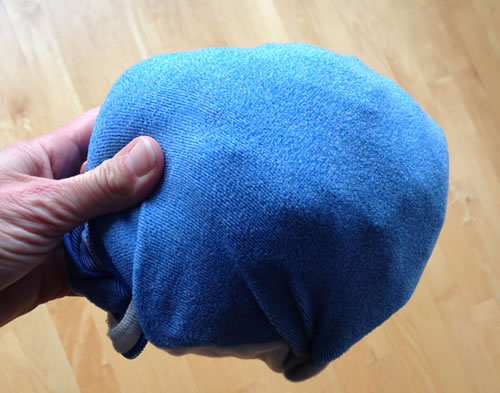 might fit in here well.
The colors that are available in the Pro Lite Jacket are right up my alley: True Blue (pictured), Candy Red, Lagoon and Lipstick (whoo hoo!). Now they just need Wanderlust. 🙂
By the way, packing the jacket into its own pocket may not be pretty but it IS possible.
Available on Amazon for about $60.
Be Bold,
Beth
Want to stay up-to-date on all things Wanderlust? Follow me on Facebook, Twitter or RSS/email.
Disclosure: Craghoppers provided this jacket to me for review. Regardless, everything I have said in the post reflects my honest opinions.