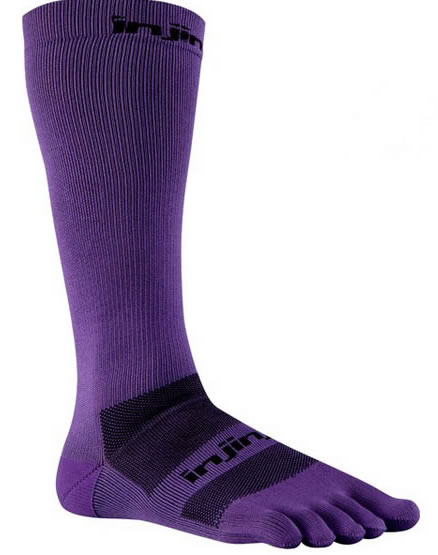 Although it's not necessary to be a runner to get the full effect of compression socks or toesocks, I didn't really appreciate Injinji until I began running.
I started to "get it" when I began running long distances and would sometimes get caught in the rain in Seattle (surprise!). That meant that my running shoes and socks would get wet. By the time I got home after running for two or three hours, I would start to get blisters on my toes from them getting wet and then rubbing together.
The purpose of the Injinji toesocks is to keep your toes separated to avoid these blisters. <insert head slap here>
I've tried several of the Injinji socks for just this purpose including the Run Lightweight No-Show (below) and the Multi-Sport Midweight No-Show. These are both quite similar except the Multi-sports are a bit heavier in weight. While these slightly heavier socks will come in handy when the weather gets cooler, they're really meant as all-around sport socks with cushioning throughout whereas the Run Lightweight has additional cushioning where runners need it most.
I like the N0-Shows because they are short enough that they don't stick up over my running shoes. Anything taller and I feel a little nerdy, but that's just me.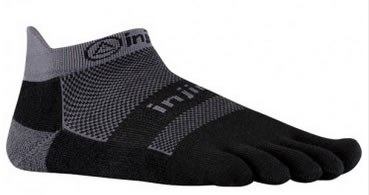 I've been wearing these for a few months now and I can honestly say I have not had one blister since wearing them. (I learned over the winter just what happens when I don't wear toe-socks in the rain so I know my feet ARE prone to blistering otherwise.)
The other Injinji toesocks I've used are the Compression OTC (above).
These are my go-to post-run socks and are golden for post-run recovery. After one of my long runs (anything 18 miles or more, I put these on, lay down on the couch and put my feet up. (There may or may not be either some pickle juice or tart cherry juice downed at this time as well.)
The compression from these socks helps with my recovery by encouraging circulation in my legs and reducing my recovery time which means I can get back out running more quickly! (I know, some of you are thinking why would I want to do that after having just run 18 miles.)
I will say that if my toes are a bit sore after a long run (usually from my toenails being hammered for three+ hours), the compression in the toes from the OTCs is a bit uncomfortable but it just takes me tugging on the toe portion of the sock a bit and it relieves the pressure.
Injinji socks are available on Amazon in a variety of styles and prices.
A slightly different take on the athletic compression socks comes from Vitalsox. The premise of these taller socks is also to create enough compression around the calf that it increases circulation, aiding in recovery. Vitalsox, however, don't have individual toes. For recovery socks, I'm not so sure this is important. And, I have to admit they are a bit more comfortable around the toes as they don't compress my toes like the ones above do.
But compression socks aren't all about running. They are extremely useful for travelers as well. And Vitalsox has several versions of compression socks ideal for walking and traveling.
You likely already know how important it is to stretch and walk during and after a long flight in order to avoid deep vein thrombosis–a blood clot that can occur on flights over four hours.
Wearing compression socks can help deter such problems as they are helping increase the circulation in your legs. In addition to their sport socks, Vitalsox also has a wide range travel socks.
Vitalsox are available on Amazon in a variety of styles and prices.
Be Bold,
Beth
Want to stay up-to-date on all things Wanderlust? Follow me on Facebook, Instagram or RSS/email.
Disclosure: Injinji and Vitalsox provided these socks for me to review. Regardless, everything I have said in the post reflects my honest opinions.