Have you heard of Craghoppers? I hadn't until they reached out to me prior to this year's Outdoor Retailer Show in Salt Lake City. It could be that they haven't been on my radar because they are located in the UK. Or maybe I just don't spend enough time perusing outdoor stores (something I actually wish I had more time for)!
In any case, you should know a bit about them. They specialize in travel, outdoor and adventure clothing. Lightweight, wrinkle-free and quick-drying, their full range of clothes for men and women also include insect repellent items.
I recently tested out 2 shirts during my travels to Asia.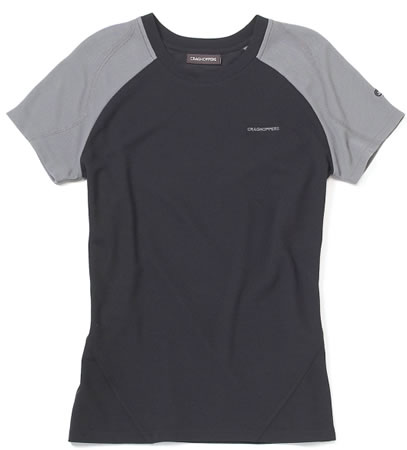 Their Base T-shirt came in handy in 2 very different circumstances. I first wore it while trekking in Bhutan. The wicking properties kept me warm and dry while making my way through the Himalayas – at times in rainy and freezing weather. Layering is really important on such a trip and having this as a base meant that when I did warm up and started to sweat, I wasn't worried about getting chilled.
Just a week later I was wearing this in Burma, where temps were close to 100 degrees and humid. The most notable thing for me about wearing the Base T-shirt in hot weather was that it didn't hang on to underarm odor. I also wore another manufacturers' shirt and found that the odor-guard underarm on the other shirt actually soaked up my odor and it lingered (TMI?).
This is so minor, but I actually like that their logo is discreetly placed to the side. I have a base layer shirt from another clothing company and don't like that the logo is placed dead center. Great branding but…
The other item I checked out was the NosiLife Darla Long-Sleeved Shirt. This insect-repellent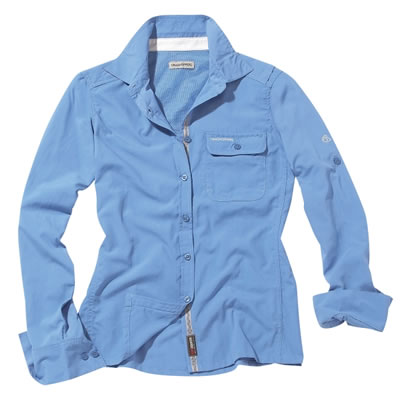 infused shirt was great as an added layer during my trek and also, because it's so lightweight, perfect for covering up in the heat of Burma – protecting me from the harsh sun while boating on Inle Lake.
The Darla has a buttoned pocket in the upper left (I found this perfect for my digital camera) and a zippered pocket tucked inside that pocket (great for stashing cash). The back is vented and the sleeves roll up and button.
While there were mosquitoes in Burma, I never did really get to test out the efficacy of the mosquito repellent as I made sure to slather up my feet, neck and face with a natural mossie repellent.
Available for $65 on the Craghoppers site.
I have to toss in a plug for this item that would have been awesome for my trip to Papua New Guinea in August (unfortunately, we couldn't get it shipped in time for that trip). Specifically it would have been helpful in the Sepik River region, where the mosquitoes are the most fierce of any place I think I've ever been. This is the Ultimate Mesh Hat, meant to protect your head from pesky mossies as well as the sun. Fair to say I would have worn this a lot in PNG – it would have protected my neck and face from all the bites that no amount of repellent (natural or Deet) was able to protect me from.
Available from the Craghoppers site for $40.
Travel Well!
Beth
Related links:
Omala Sleeved Tunic
Sherpani Milli NE Bag
Revo Heading Sunglasses
Hidden Money Pouches and Wallets