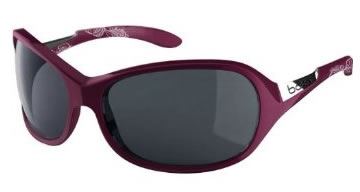 Rumor has it that Seattleites buy more sunglasses than another other population in the U.S. Umbrellas? No way. Sunglasses, you bet.
Ever the optimistic, I'm almost never without a pair of sunglasses nearby. Even in Seattle.
Truthfully, it has to be the rainiest of days for me to leave them at home. I suppose I have sensitive eyes because even in bright clouds (did I just make that up? is that unique to Seattle?), I have to have sunglasses on or else I'll be squinting.
So I have a little landing spot in my closet with a small variety of shades. The Bolle Grace sunglasses are a recent addition.
I'm generally not one to like the big movie star sunglasses. My face is just too small for those. But despite the Grace glasses being along those lines, the round lenses on these are just a bit smaller than most, making me almost star-like but not quite :-).
In comparison to my other sunglasses, their effectiveness is quite similar. Great protection from the sun and no squinting. Because of the slightly larger lenses, however, they provide a bit of extra protection from the sun so it's not sneaking in from the sides.
The arms are long enough so that the glasses stay put if they are sitting on top of my head. Given that I want these to be handy most of the time, that's a convenient perk for me.
Available in Purple/White (shown), Shiny Black, and Shiny Tortoise. On Amazon for under $85.
You can find other sunglasses, goggles, and even helmets on the Bolle website.
Travel Well,
Beth