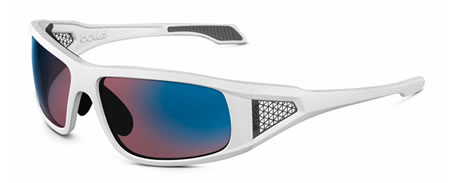 If it were completely up to me, I'd probably still be wearing $10 sparkly sunglasses from my local pharmacy. But Jon, being the caring partner that he is, insists that I wear sunnies that actually protect my eyes and don't just look cute with blingy fake diamonds embedded.
I appreciate that. I really do (though my $10 blings sit in my car as a backup whenever I forget to bring a "real" pair).
I had originally thought I'd be testing out the Bolle Diablos on my spring trip to Bhutan. The Diablos are part of Bolle's Alpine collection and are lightweight and use anti-fog technology. This makes them great for high altitude as well as changing climate conditions. Unfortunately, they didn't arrive in time for that trip, but I have discovered a surprising use that's going to make them far more valuable to me than my twice a year journey to the Himalayas.
You likely know I started running last fall, just as the days were getting shorter. I generally set out at sunrise and haven't had to worry about sun or the need for sunglasses, until recently. Now that the day's are longer and my 6 a.m. runs are in the light of day, sometimes, just sometimes, the sun's actually out strong enough to make me squint if I'm not wearing sunglasses.
This is where the Diablos come in.
They sit gently on my face and have lightweight rubber grips on the nose, the arms (where it
sits above my ears) and along the brow line (see photo right). While running, this means they won't bounce around or shift. Not at all.
While my other sunglasses (yes, even my good quality ones) tend to fog up on me, the design on the Diablos give enough breathing room so that moisture doesn't get trapped. And I LOVE the rose tint. I had a pair of (cheap) glasses ages ago that were rose-tinted and I miss them. There's something to be said about seeing the world through these (in a literal and figurative way).
While I'm not sure the white rimmed version would have been my first choice (sometimes I don't get a say in the color of a review sample that's sent), they do make me feel like a movie star :-). And for sure, they are growing on me – I'm definitely wearing them beyond running.
While Bolle specializes in performance sunglasses and goggles, Serengeti, Bolle's sister company, specializes in driving glasses. (I know, I need to
replace those blingy sunglasses in my car with these.)
I was smitten with the style of the Bellas (note the zebra stripes) because of my trip to Zambia. Plus, what travel website would be complete without a mention of Africa-inspired sunnies?
My assessment is this… Lovely styling. Very lightweight. And the photochromic technology in the lenses means that they will lighten and darken depending on the sunlight.
But? And I know this sounds really shallow… either the arms are too short or the curvature of the glasses too flat, but these will not sit on the top of my head without falling off. It means that I can't easily take them off (and have a safe place to keep them), if I need to (think: driving through a tunnel). Someone else might have a completely different experience (or may not care) so I can't give them a bad rating as a result, but it's definitely something to be aware of.
Over all, these really are lovely. I like the smaller frame size (I'm not one to go for those big glamor glasses) and they are comfortable. I haven't experienced any fogging with these either.
So, yes to the Serengetis, but know what you're getting into.
The are available in a wide range of colors/designs on Amazon starting at $127.
Travel Well,
Beth