Last week, I attended the Outdoor Retailer Show in Salt Lake City. This is a twice-yearly event where manufacturers in the outdoor gear/accessories/clothes/shoes industry show off their goods for the next buying season (in this case, fall). Retail buyers and media folks meet with sales and PR folks over four days to see what might be available later in the year.
It's a freaking amazing time for everyone and it's an event that I attend so that I can bring you more travel gear reviews.
The Salt Palace Convention Center is pretty much bursting at the seams with outdoor enthusiasts – fit and buff men and women, dreadlocked snowboarders, long-haired hippy freaks, hikers, mountaineers (Jim Whittaker was signing books at several booths) and lots of beer. Happy hours start at 4pm every day and I was an anomaly for NOT having a brewskie in my hand at the end of every day.
But in the end it's about the gear. And oh boy, did I discover some great gear that I will (hopefully) be field-testing and reviewing over the coming six months (until the next OR show).
The one product that I'm most excited about is the Eagle Creek Morphus bag which, from one carry-on, turns into two bags. I particularly like this system because on many of my trips, I pack super light TO my destination and then return home with a cheap duffel bag filled with souvenirs and spices. I will no longer have to add to the pile of cheap duffels in my garage with this baby
Here's a snapshot of how it works:
So, there's a bag hidden and packed down inside the main carry-on bag. It takes up a surprisingly small amount of space so you're not loosing a ton of packing area to make room for it. Really. Brilliant.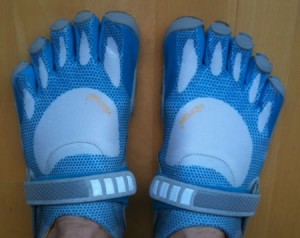 I was pretty psyched to have made contact with the folks at Vibram this year. As you know, I'm relatively new to this running thing and late last year started running in a pair of Merrell Barefoot Run Pace Gloves (with Vibram soles). I can't believe I spent a year running in my clunky New Balance sneakers. I immediately improved my running time with the Merrell's and am now eager to really get running in these Vibrams.
But my main motivation behind the Merrells was to have a pair of running shoes that were easy to travel with. I'm hoping that the Vibram Five Fingers will be even easier to pack. PLUS, they have a whole line of lifestyle shoes that I think would be a great fit for traveling.
I was also thrilled to see what Sherpa Adventure Gear has coming up in the fall. I've long been an admirer of this company, not only for their well-made outdoor gear but because they are really strong supporters of the Sherpa climbing community in Nepal. Their products are produced in Nepal, tested in the field by local and international climbers and they give back to communities in Nepal through their own non-profit giving program. Good people they are.
The Pasang Jacket above is one that I've coveted for awhile but I'm looking forward to reviewing new items in their line soon.
But really, there were so many companies I met with (about 40 in all) and I look forward to reviewing many new items for you throughout the year. Expect to see reviews on products from Timex, Nau Clothing, Horny Toad, Oboz Shoes, Bolle Sunglasses, Sanuk Shoes, Olu Kai, ECCO, GSI, Polarmax, Ethnotek Aventura and more!
It'll be my pleasure and hopefully you'll dig it, too.
Travel Well,
Beth
Related links:
Travelers are the New Student Activists