Looking for the best gifts for the traveler in your life? Here are some of my favorites that I've become very attached to. Also check out my Travel Clothes Gift Guide and Stocking Stuffers for Travelers.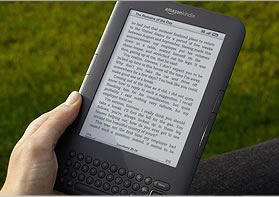 Amazon Kindle – You're a traveler. And you're a reader. You should not be hitting the road without a Kindle. The experience really isn't so different than reading a book and it could easily save you from carrying several pounds in your luggage. At a time when airlines are strict about your luggage's weight, this is a great way to cut down. And, it's the perfect time to buy now that the price has dropped to $140. Available on Amazon
**********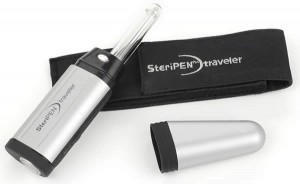 SteriPEN – This is one of my very favorite travel items. This water purifier uses UV light to kill 99.9% of germs and parasites in water. Stop buying bottled water when you travel and switch to the SteriPEN. Over time you'll save money and you'll keep bottles out of landfills. I've used this during months-long trips to India and have had no problems, even drinking tap water after purifying it with the SteriPEN. Available on Amazon for $79.
**********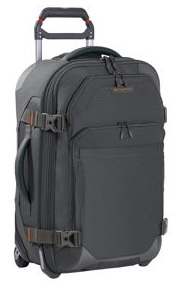 Explore 22″ Upright carry-on bag – This carry-on from Briggs & Riley is from their newly launched BRX Adventure line of luggage. This bag has lots of features that appeal to the hardier traveler. It's lightweight (7.5 pounds), it has a very roomy interior as well as lots of pockets inside and out for organizing and tucking away important paperwork and goodies. Only slightly pricier than most bags of this type, it will likely last you a lot longer than others. Plus, it's got a lifetime guarantee.
**********
XShot Monopod – This nifty piece of gear is an extendable arm that makes taking photos of yourself easy. You mount your camera on the end, set the timer and hold out the XShot with your iconic destination in the background. Perfect for solo travelers and it doesn't take up a lot of space in your daybag. It even comes with a case so you can mount your iPhone onto it. Monopod available on Amazon for about $22. iPhone case available for about $20.
**********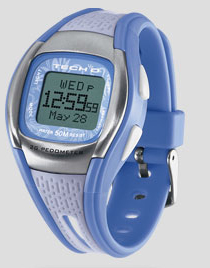 Tech4 o Accelerator watch – This watch is an item that I now always travel with. I'm generally less concerned with the time but it's the pedometer with step counter and mileage tracker that I'm hooked on. Not only does this help me keep track of how much exercise I'm getting but it gives me the ability to keep detailed notes for my groups on how long certain hikes or treks are. Available on Amazon for just over $50.
**********
Asus eee – I only started traveling internationally with a laptop this year. It makes sense when you can buy a netbook at a reasonable price AND have wireless access pretty much anywhere you go (I was amazed at the number of hotels in SE Asia that offer FREE wifi!). The Asus eee is a tiny little laptop that has served me super well. While you can't load it up with tons of programs, it IS great for word processing, email and some other programs. Available on Amazon from $290.
**********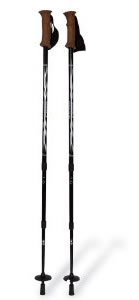 Mountainsmith Carbonlite Pro – I became an advocate of hiking poles during my trek through Eastern Bhutan recently. Whether you're traveling or hiking closer to home, the adjustable Mountainsmith Carbonlite Pro poles might be just the ticket. They weigh just over a pound and pack down to just 27 inches. I love the light weight of these poles as well as the ease of use when adjusting the size. The handles and straps are quite comfortable as well. Available on Amazon for less than $60.
**********
Flip Ultra HD camera – Sure, you can use your iPhone for taking video, but wouldn't you rather be able to shoot some HD using a video camera that's no bigger than your iPhone? The Flip Ultra HD camera can hold 8GB (2 hours) of video and is easier to use than your iPhone. Just plug it into the USB port of your computer and you've got access to download and work with video from that next bungee jumping adventure! Available on Amazon for $170.
**********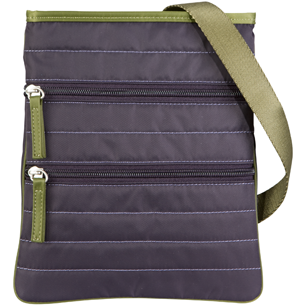 Annie Crossbody Purse from Ellington – This is a shoulder bag just slightly larger than my now-retired self-imported bags from India and is about a million times more sturdy. When I head out the door for a walk, whether traveling or at home, I don't like to weigh down my pockets with the few items I take with me. Instead, I usually carry a small shoulder bag to hold my wallet, iPhone and keys. I'm hooked on this small bag and love that it packs easily into my luggage. Available on Amazon from $26.
**********
Cinzia Sport 5 sunglasses – These sporty glasses are just perfect for me. Unlike the large bug-eyed-fashion sunglasses that seem to be all the rage, these small, classy glasses are unassuming. The arms are long enough to fit behind my ears and then sit comfortably on my head without falling off when I'm indoors (a major feature to me). Available on the Cinzia site for $105.
**********

Klean Kanteen – To go along with my SteriPEN (above), I've now taken to carrying a water bottle when I travel. Klean Kanteens come in wide range of sizes, colors and mouth sizes allowing you to choose the right one for your needs whether it's travel, home, work or sporting events. Most importantly, these are BPA-free AND will help you reduce the amount of waste you're leaving behind when you stop buying bottles of water! Available on Amazon starting at $7.

Check out these other gear posts from fellow bloggers:
Travel Gift Ideas for Kids of All Ages from Ciao Bambino
Best Travel Socks from Spot Cool Stuff
**********
Related Links:
Travel Clothes Gift Guide
Stocking Stuffers for Travelers (2010)
Stocking Stuffers for Travelers (2009)