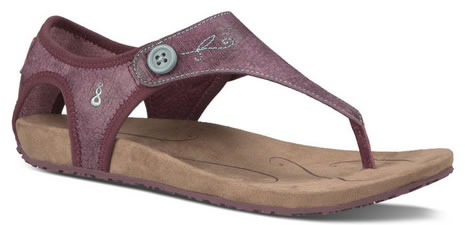 Summer has been glorious in Seattle and, as a result, there have been lots of opportunities for me to wear my Ahnu Serena sandals.
Adorable, right?
But not only are these great to have in Seattle's warm weather, they are lightweight and small enough to pack away for any warm weather destination.
With travel to Bali and Java coming up in September and Hawaii in December, it looks like I'll have many more chances to wear these throughout this year. YAY!
So…besides their total cuteness, what makes me love these:
With a soft leather upper, I was able to slip them on and, from Day One, never got any blisters.
The back has some elastic in it which makes them easy to slip on (the button is simply for show).
The footbed is a soft microsuede and it's contoured to provide comfort and support for my arches. Though I don't generally have problems with my arches, I appreciate this as it makes it easier to spend all day in them.
While they do get smashed up a bit in my luggage, they spring back to life easily enough and don't look any worse for wear once they're on my feet.
They are really lighweight – perfect for packing in my carry-on luggage.
These look great with a pair of shorts, pants or a dress so they help limit the number of shoes I have to pack.
Also, there's pretty stitching on both the leather uppers and the footbed.
The Ahnu Serenas come in a wide range of colors including Eggplant (pictured), Black, Brick Dust, Agave Green, Chocolate Chip and Colony Blue.
Available on Amazon for a variety of prices depending on color.
Be Bold,
Beth
Want to stay up-to-date on all things Wanderlust? Follow me on Facebook, Twitter or RSS/email.
Disclosure: Ahnu provided these sandals to me for review. Regardless, everything I have said in the post reflects my honest opinions.