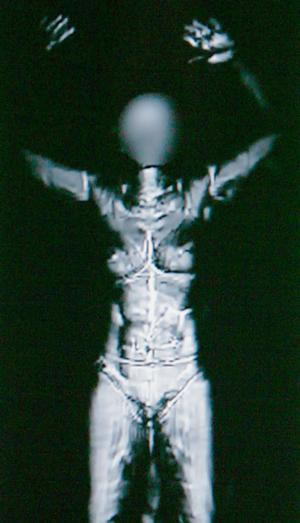 Earlier this year, the TSA began its rollout of 450 advanced imaging technology whole body scanners at airports. These scanners aim to provide more security for passengers and crew as they can identify items that the current metal detectors cannot. I wrote about whole body scanners after Chris Elliott and Steve Frischling were issued subpoenas by the Feds for a related issue.
The bottom line is that scanners provide a detailed, three-dimensional image of a person's body, basically a virtual strip search. The images from body scanners are supposed to be discarded immediately, but it was discovered in August that a courthouse in Orlando had been saving them. Personally, I'm not interested in subjecting myself to this virtual strip search and when I am confronted with one of these, I will decline to go through it.
But, there seems to be some troubling news about what happens to those who do turn down the scanner option (and it IS an option). This new issue was addressed recently by Charlie Leocha at the Consumer Traveler. It seems that passengers at some airports who opt for a pat-down as opposed to a body scan, are being subjected to open-handed palm-forward invasive searches by TSA. In effect, passengers are being punished for choosing not to walk through the scanner, and are given such an embarrassing security search that they'll think twice before opting out of the body scanner in the future.
My reasons for opting out of the body scanner are two-fold. For one, no matter how low-level the government claims the radiation to be on these scanners, I'm not interested in subjecting my body to any more than is absolutely necessary. (It's why I also question my dentist any time I'm told I need an x-ray.) The government states that these advanced imaging scanners are "safe" and that they send out such low levels of radiation that a person would have to be exposed thousands of times a year to have any ill-effect. However, there is research that about one in 20 people are particularly sensitive to radiation, as are children who can develop cancers later in life from early radiation exposure.
Second of all, I'm frankly quite uncomfortable with a stranger scanning the details of my body. While I'm fairly certain that a TSA employee will have little time to give thought to my particular outline, the thought of it creeps me out a bit.
Women travelers should give particular consideration to whether you want to be subjected to these scanners. For pregnant women, specifically, the effects on an unborn child are unknown. If a TSA employee tries to assure you it's safe, remember that their job is to make the line move faster, not protect your child. There's also an interesting twist on the female factor from the Islamic community. It is a violation of their religion for another person to see their private parts. (This reminds me of when I was getting a foot massage in Bangkok and noticed a Muslim woman had been shielded by a curtain from the rest of the customers.) Imagine the embarrassment for this very modest community!
With this alarming news that the TSA is making the pat down process more unpleasant for passengers who decline the body scan, I'd love to know what you plan to do when you're faced with such a decision.
Travel Well,
Beth
Related links:
Knock Knock. Who's there. The Feds.
Security Alert – Peanut Butter is Spreadable
Airport Safety = Security Theater?
Where Have all the Clunkers Gone?
Join other Wanderlusters and stay updated on travel-related items by subscribing via email or RSS feed.