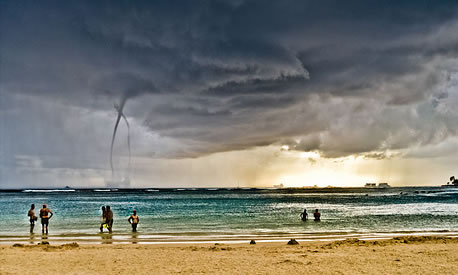 A year ago at this time, Jon and I were vacationing on Kauai. We're not TV watchers at home, but upon returning to our condo on the night of March 11, we happened to turn on the television and start flipping through channels. I caught mention of an earthquake in Japan and, remembering the tsunami of 1994, stopped to hear more.
That's when I learned that we might be in danger at our condo on the Poipu waterfront and that we'd have to evacuate no later than about 2 am.
I've just returned from Hawaii Island (aka, the Big Island). I was with a group of travel writers and photographers and our first few days were spent in and around Hilo. This small city, located on the east coast of the island, is considered the wettest city in the state. Ironically, however, we had beautiful weather while many other parts of the state were getting hammered by intense rainfall (the previous week recorded 46 inches as reported by AccuWeather), hail 3-inches in diameter (likely record-breaking) and even a water spout that came ashore on Oahu as a tornado. (The photo above of a water spout – which forms off-shore – is from 2011.)
This time around, I was a lucky duck. No evacuating. No dodging hail the size of a child's fist. No sitting inside a condo while nasty weather takes over my vacation.
But I know there were a large number of tourists in the last few weeks who weren't so lucky. They were stuck indoors and in some cases their flights were delayed or canceled due to the heavy rains.
I travel enough that bad weather, missed connections or other problems don't bother me so
much. I'm used to it and know that when you do travel as much as I do, things are bound to happen. But when your vacation time is limited and you may not enjoy another 2 weeks off from work for another year, what do you do when that precious vacation time turns to lemons? How do you make lemonade?
1) If you encounter dramatic weather that's devastating even for the locals… get over the fact that your vacation wasn't what you had planned and, instead, look for ways to help – volunteer at shelters or donate food and clothes to help out victims. What an amazing way to get to know the locals, don't you think?
2) Flee to drier and sunnier parts of the region. While my group was having lunch on the Kohala Coast, there were a couple of gals sitting next to us at a table. They were from Oahu and tired of the rain. So, they hopped on a flight, fled to Hawaii Island and traveled to the sunniest part of the entire state – well known for its consistent sunshine. There's no reason your vacation can't also take a detour to ensure a better experience.
3) Ask your hotel for a discount on a future trip. Consider returning during a time that has consistently better weather. This gets you back to your destination and gives you something to look forward to!
4) Make the best of the situation. I emailed my neighbors to check in on them while they were spending 2 months on Kauai during the heaviest of rains. Their response was, "The March weather has been wet. But it has not dampened our spirit! My big adventure last week was skydiving."
How awesome is that?! The point is that there are lots of things to discover at a destination even when the weather isn't perfect (something we know about here in Seattle).
5) Make it an opportunity. They say everything happens for a reason, right? It's hard to see it at the time, but when you've missed a connection, your flight's been cancelled or your car rental agency has run out of cars, consider who you're going to meet and what you might see and experience because of that missed opportunity. You might run into a long lost friend at the airport, or get upgraded to a convertible by another rental car company. Whatever it is, there IS some gem waiting there for you – you just have to be open to it.
Travel Well,
Beth
Related links:
Photo credit:
Water spout – madmarv
Lemonade – Rob Bertholf
Smiley face – Ged Carroll