I
t seems so cut and dried to me, what I do on a daily basis.
But I've picked up from several conversations lately that some people don't understand exactly what my job is.
For example, I mentioned to my neighbor that I was going to Maui with my writing colleagues from the Expedia Viewfinder Blog. She said, "Wait, I thought you ran your own tour company." So I told her, "I do, but I also run Wanderlust and Lipstick and have clients in the website world."
For someone who works as a teacher and is not steeped in the world of online travel, this was probably difficult for her to grasp. I'm sure there are a lot of people who wonder the same thing. So I thought I'd give a little explanation of my business(es).
First, I don't have that catchy 10-second elevator speech that every business coach tells you to create. I could say, "I make people's travel dreams come true." Or "I inspire women to travel and fulfill their travel dreams."
Both are probably true. But I'm a little too practical to whip out a practiced response like that at dinner parties.
Closer to the truth is that I oversee a travel empire geared toward the women's travel market. (Please note tongue-in-cheek use of "empire.")
In other words, I run two sister companies, Wanderlust and Lipstick and WanderTours. WaL (where you're reading this), is a website aimed at inspiring women to travel. I want them to think out of the box, stretch their limits and plan a trip they never thought they could ever accomplish. In short, Be Bold (as our tagline states).
I'm so fortunate to have a team of dedicated WanderBloggers–each focused on their own niche–to help me with this goal. These gals (and a couple of Dudes) are eager to share their travel experiences and are delighted to be part of our WanderBlogger community. They are all doing really really cool things in the travel space and I'm so proud of them all.
We have a number of contributors who write for other parts of the site including our WanderTips section. They research and post stories that will, hopefully, provide some practical advice to our readers such as these tips for Europe travel and these for solo travel.
I also have an amazing support staff (for both WaL and WanderTours) that really make everything go smoothly. They are definitely unsung heroes to the business.
The popularity of the WaL site means that I'm able to work with partners such as Expedia as well as other companies such as Enterprise and Alamo to help promote their brands. These partnerships allow me to keep the website up and running.
So, what about WanderTours?
Well, my early days of travel were spent mostly traveling on my own. And that's why I initially launched the WaL site (and my books). To encourage women to travel independently. I soon had women asking if I ever led tours and saying they'd love to travel with me.
So…I started leading tours.
But I wanted them to be special. So I choose destinations where I have a strong connection with the culture and where I know I can provide a truly unique experience for our tour participants.
We started with Bhutan and have branched out to Papua New Guinea, India, Southeast Asia, culinary tours in the U.S. and, soon, Africa. Preserving indigenous cultures is important to me, so I include an element of learning about the local culture into all the tours.
Because giving back is such an important aspect to my travels, we have always built in a giving component to all of our international trips. To this end, I've just filed paperwork for the WanderWorld Foundation to set this up as a non-profit so that not only I, but also our tour participants, can donate funds to help people at the destinations where we travel.
Wow – this is a lot, isn't it?
Why am I involved in so many things? Well, part of it is because they're all a natural fit with each other. But also, I believe in multiple streams of income. If something out of my control were to happen to affect any one part of my business, as a whole, it would survive.
I have friends who run websites and have lost 60% of their traffic after a Google algorithm update. That wouldn't be completely detrimental to Wanderlust and Lipstick but it would be a huge bummer and might affect my partnership deals. In this case, the tours would keep going, helping to support the website.
If we had another 9/11 and travel came to a standstill, we might have to cancel tours but the Wanderlust and Lipstick site would help  cover expenses and help support the tour business. Furthermore, I like to diversify our tours by offering different countries. If something were to affect travel to one of our destinations such as the Nepal earthquake (we don't have tours there, by the way), we'd still be OK with tours in other locations.
Typical day
I work from home. This is both good and bad.
I do not work typical 9 – 5 hours and I work a lot because "work" is never turned off. When I get emails from Bhutan, Vietnam or Africa late at night, I answer them immediately because if I don't, it will be another 24 hours before I get a response because of the time difference. And sometimes, I need quick answers.
But working from home also means there's a lot of flexibility in my day.
I get up shortly after 5:00 a.m. I workout, meditate, shower, dress and get ready for my day.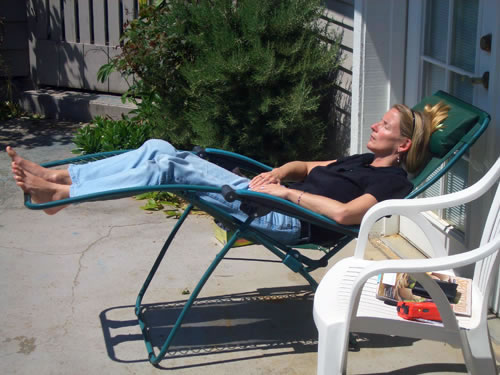 That's an early start, but it means I can take a break for lunch and on a nice day, do this >>>>
I also have an incredibly supportive partner, Jon, who provides guidance behind the scenes and accompanies me in my travels whenever he can. (He also sneaks photos like this one whenever possible.)
So, yeah, I probably spend too much time behind the keyboard but I also spend A LOT of time traveling. More than I could have ever wished for when I started this business.
I know sometimes people can get burned out when they make their "hobby" their business. But there's no sign of that happening for me. I love traveling with the groups that WanderTours attracts and am so lucky to meet people from such diverse backgrounds with whom I've remained friends for years because we traveled to, let's say Bhutan, in 2008.
I have to constantly look at my priorities and decide whether I'm running a tour business or a website that day. Usually I switch back and forth throughout the day, marking things off my task list as I go. And answering the never-ending emails as well.
Working out
I think it's worth noting that I work out almost every day. I train with weights three times a week, I run at least four times a week and take a three-mile (at least) walk with Jon almost every day.
I used to think that I didn't have time to workout. But once I started doing P90X, I realized I couldn't NOT work out every day. I have more energy, I'm more clear-headed, calmer and, in general, think I'm just a better person. I also don't stream nearly as much TV as I used to (we don't subscribe to cable), instead spending that time being active.
Working out so much has also forced me to eat better because I need to fuel those workouts with healthy food. Buh-bye bags of potato chips. 🙁
And, yeah, I make sure that I work out and run while I'm traveling to. I do sometimes feel like a bit of a stick in the mud when I'm trying to eat so well when I'm on a tour or traveling with a group but…I gotta do what makes me feel better.
Yeah, long blog post, I know. Maybe this is TMI into my life. But hopefully it answers those burning questions you've always wanted to know. And now I'm ready for a nap…
Be Bold,
Beth
Want to stay up-to-date on all things Wanderlust? Follow me on Facebook, Twitter or RSS/email.