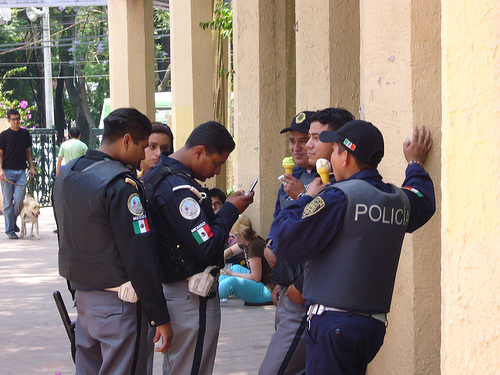 What constitutes a dangerous destination? Depending on your ethnicity and accent, these days it might be Arizona. But that's a can of worms best not opened here.
Seriously. Two "dangerous" destinations on many travelers' radars right now are Bangkok and Mexico (yeah, the whole country if you ask most people). Really, though, just how much consideration should you give to avoiding these (or other) destinations where drug-related violence and protests have become the norm? These two destinations rarely make the front page in U.S. newspapers, yet their buried stories have a way of permeating our subconscious causing us to think, without knowing all of the details, that these places should be avoided completely.
Barbara from Hole in the Donut recently traveled throughout Mexico on her own and felt quite safe. As a matter of fact, she writes about how over-the-top friendly Mexicans were to her and goes so far as to advocate that people travel there to see for themselves. In contrast, however, Daniel, a commenter on her Mexico post, says he wants nothing more than to be away from Mexico due to the violence and law enforcement's ineptitude. He's a Mexican currently studying in the U.S and says that Mexicans are leaving the country for safety reasons. He warns… "Visit Mexico At Your Own Risk."
But don't we do everything at our own risk?
So, who's right?
I suppose they both are. Barbara and Daniel are relying on their own personal experiences when they voice their opinion. Barbara's travels were safe in Mexico while Daniel's experience as a resident have been tenuous, causing him to fear for his family.
So whaddya gonna do? While your personal safety should always be a priority when choosing a destination, do your due diligence when
making that final decision. Many people allow themselves to be too influenced by the State Department's travel warnings or the media's "the sky is falling" reports. In reality, you should take these with a grain of salt. The State Department is overly cautious and the media is overly dire. Really, there are few places in the world that would cause me to raise an eyebrow if someone told me they were going there. Mexico is not one of them. Neither is Bangkok.
Gary from Everything Everywhere wrote about his recent time in Bangkok just after the bullets started flying. He urged caution and suggested that one find out the whole story before you cancel a trip. Even so, he was nearly roasted for even suggesting that one might be safe while traveling to Thailand and Bangkok specifically.
One commenter wrote that he choose another country because of the incidents in the city (which, for the most part, have been isolated to specific areas). Really? Given that logic, foreign tourists should avoid the whole of the U.S. because of a failed terrorist attack on Times Square. But then, I didn't notice any State Department travel warning about NYC either…
The bottom line is don't rely on overblown reports which are generally focused on the bad and the ugly. There's often more good than terrible in the world. Caving to the naysayers and negative types will only cause you to want to stay home and watch another repeat of Law & Order.
The State Department's travel warning about Mexico is filled with warnings about specific areas of the country that should be avoided. While it all sounds dire, in reality, the violence is quite isolated and targeted. Search around for other accounts, like Barbara's and Gary's, to find people on the ground who have their own (good or bad) experiences to share.
And, while those who believe the sky is falling are sitting at home, know that you can take advantage of low cost hotels and cheaper flights to the destinations that others believe are oh-so-dangerous.
Travel Well!
Beth
Related links:
Getting Over Reverse Culture Shock
A Monk Walks onto a Plane
One Way Ticket to Ride
American Travel Ethos
Police with Ice Cream: Azttlan
Poo