Although I grew up in New Jersey, a short train ride away from the heart of New York City, I have to say that business has drawn me to the Big Apple more over the past few years than I ever went during my youth.
During my most recent trips, I've made it a point to research things about the city that are unusual, such as tea shops and quiet spaces. I've also branched out in terms of my lodging choices. Since staying with family in Jersey isn't always an option during these business trips (sorry fam!), I've come to enjoy checking out unique hotels in New York City – and fortunately there are lots to choose from.
Next time you're headed to The City, consider one of these options:
Marrakech Hotel
Wherever I go, I love to see a little bit of world culture and the Marrakech Hotel serves that up in droves. Warm colors, exotic lamps, unique woodwork and amazing textiles make this hotel a little something special. And it's located right smack in the middle of the Upper West Side so you can slip outside of your Moroccan oasis to Central Park (four blocks away). Rates start around $96 a night.
The Library Hotel
It's difficult to top The Library Hotel for uniqueness–or access to books galore. Each of the 10 floors of the hotel is dedicated to one of the Dewey Decimal System categories. The dream of every childhood bookworm has finally come true. There are more books in each room, too. Plus, if the books at the hotel just aren't enough for you, the New York Public Library is just a block away. Rates start at around $200 a night.
The Pod Hotel
If you like hip and trendy and a little funky (in the good way), The Pod Hotel is the place for you. A budget hotel with a sense of style, The Pod is decked out with murals and offers all kinds of room choices to suit how much you want to spend–from the Single Pod (with one twin bed) to Queen Pod to bunk bed rooms and studios. Much like a hostel (yet without the hostel-ness of a hostel), you can even cut your room cost further by opting for a room without a bathroom and using shared facilities. Rates start just under $100.
Ace Hotel New York
Like The Pod, Ace Hotel New York allows you to go full-on budget with one of their Bunk Bed or Mini rooms, but you can also go all out with a 711-square-foot Loft Suite. Rooms are cool from floor to ceiling with neat touches like turntables and guitars and chalkboards on the walls. Rates start around $120.
The Gershwin Hotel
The Gershwin is historic (built in 1905), artsy (each floor highlights a different artist), and looks a bit like a Gaudi building out of Barcelona (but it was designed by William H. Birkmire). Exposed brick walls, lovely teardrop light fixtures, and a convenient location close to the Empire State Building, Union Square and the heart of Fifth Avenue make the Gershwin worth a look. Rates start around $200 a night.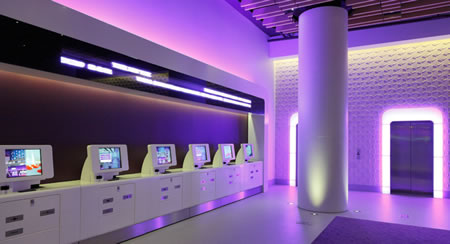 Yotel
Yotel is an innovative hotel that is fabulously modern in every way, from its automated check-in and check-out process, to the automated luggage storage area called the YOBOT, to rooms outfitted with monsoon showers and heated towel racks (hey, innovation doesn't always mean cold and sterile)! There are actual humans to help you book tickets or reservations for shows and other attractions, but I have to admit that part of the appeal of this hotel is feeling like I'm in "The Jetsons."
The Jane
You're not likely to find another hotel like The Jane anytime soon. This fabulously unique hotel feels like it jumped straight out of the pages of a history book with Old World touches to its décor and some real history, too–survivors of the Titanic wreck stayed here in 1912. The rooms are compact and on old-timey train cabins, but there's good stuff like WiFi and flat-screen TVs too. The staff gets into the spirit too in traditional bellhop costume and maids in black and white. Rooms start around $99 and some have shared bathrooms.
Wyndham Midtown 45
Sometimes you might need a touch of luxury during your stay and that's where boutique hotels come in–class without pretension, a few upscale touches, often great locations, but comfortable enough that your room won't feel like a sterile chain hotel. Wyndham Midtown 45 has all of these things. Custom furnishings in the room are by David Rockwell and the hotel has suites and apartments available as well, if you want to splurge. Rates start around $300.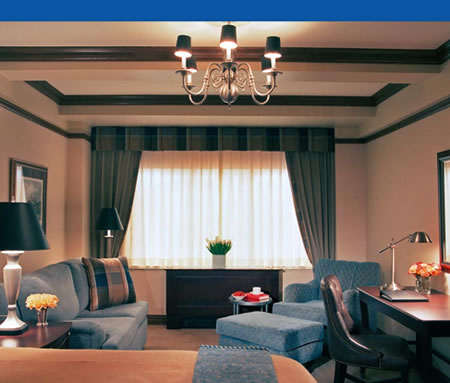 The Blakely New York
The Blakely's rooms are done in the style of an "English library," with cherry wood furniture, down bedding and marble bathrooms. The location is quiet, tucked onto a side street, but close to several subway stops and within walking distance of Grand Central Station, Times Square and Broadway. Rooms can get pricy, but if you're vigilant you can find deals starting around $200 a night.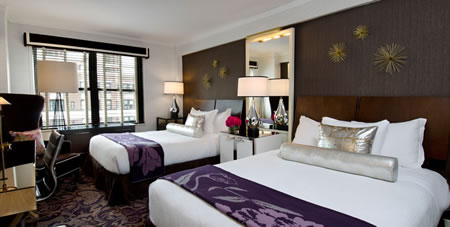 70 Park Avenue
You'll never go wrong with a Kimpton Hotel, which is what boutique hotel 70 Park Avenue is. Lovely décor and great views from most rooms are a given. Special bonuses include leopard-print robes in rooms, general eco-friendliness, and–hello!–a complimentary wine hour in the living room each night. Rates are not cheap and commonly start around $300.
*****
If you're lucky, perhaps you'll have multiple occasions to travel to New York and can try out more than one of these unique hotels.
Travel Well!
Beth