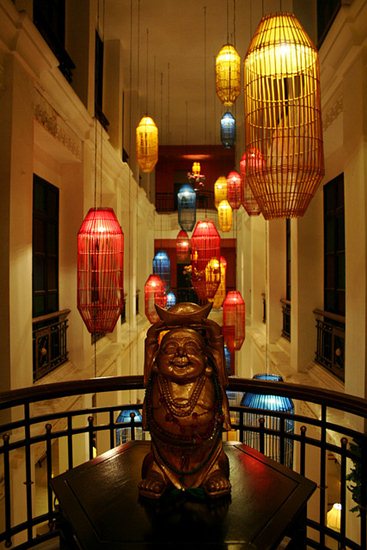 I use Bangkok as a jumping off point for many of my adventures, specifically when I travel to Bhutan and Burma. That puts me there at least twice a year.
Sometimes I stay in budget hotels and sometimes in more, well, mid-range hotels (such as the Amari Boulevard, one of my faves).
But Bangkok offers a huge variety of options. Here are some that are out of the ordinary. And, all of these, depending on the season, are available for under $100/night.
1. Shanghai Mansion – Located in Bangkok's historic Chinatown district, this 80-year old heritage site converted into a boutique hotel offers the experience of Old Shanghai while in Bangkok. The interiors and details conjure up 1930's Shanghai elegance and style, which gives you the feeling of entering a different world immediately upon entering its lobby. The hotel received a "Value for Money" award in 2010 given annually by the Sunday Times Travel Magazine.
2. Old Bangkok Inn – Originally a palace, the Old Bangkok Inn is run by the 7th generation family of King Chulongkorn (RAMA V). The historic building features rooms decorated with heirloom furniture and hand-painted porcelain by the inn's owner. A "Green Hotel," its philosophy is to provide first class hospitality and service while working to reduce their impact on the community and on the environment. The hotel also has a program that supports the local community and the less privileged.
3. Seven – This small stylish hotel has 6 rooms individually decorated with Buddhist philosophy inspired murals. It has won several awards including: Tripadvisor's Excellence Award 2012; Condé Nast Traveler 2008 Hot List; The Best New Hotels, Restaurants, Spas & Nightclubs, Travel+Leisure; The World's Greatest Hotels, Resorts & Spas 2009; and The Guardian: Bangkok Top 10's Quirky Hotels. It's located in the trendy Sukhumvit area (my favorite part of the city) and just a 5 minute walk to the Skytrain station and MRT Underground Station.
4. Luxx – This small modern Oriental style guesthouse, although conveniently located in the center of lively Silom district, offers a respite from the busy streets surrounding it. Each room has a unique signature wooden bathtub big enough for two. The design is Zen-inspired with pebble gardens and wood-framed double glass walls.
5. Buddy Lodge Hotel – This boutique hotel features authentic Thai antique furnishings and natural wood accents in each room. Best of all, it's located in the middle of the Khao San district and is within walking distance to the Grand Palace and other popular attractions.
6. Phranakorn Norn Len – This charming boutique hotel is a quiet haven in Old Bangkok. It evokes a vintage feel with its décor and personalized service. It provides organic toiletries and offers free soap making lessons. It also serves vegetarian meals with ingredients freshly picked from its rooftop terrace (yum!).
7. The Metropolitan – This hip hotel, housed in a former YMCA, offers calm amid the urban buzz. Original artwork by Thai artist Natee Utarit are showcased in the rooms. It has an organic restaurant and holistic treatment areas in the COMO Shambhala Urban Escape.
8. La Residence – A small boutique hotel amidst high rises in Bangkok's financial district, La Residence offers 26 individually-decorated rooms and authentic Thai cuisine. It exudes an intimate yet hip ambiance and is just a short walk to Patpong and the Skytrain station.
9. Le Méridien – The hotel's neutral-toned rooms is a total departure from the flashy, rough-silk décor common in Thai hotels. It's floor-to-ceiling bedroom windows offer great views of the city. Its rooms on the 22nd floor feature circular beds. This is located in the Silom business district, near Patpong Night Market and with easy access to the sky train.
10. Baan Chantra РThis 1930s shophouse converted into a guesthouse has an aura of a traditional Thai home. The guest rooms feature wooden d̩cor Beautiful traditional Thai home. It is located just a few blocks away from the famous Khao San Road and other attractions like the Grand Palace, the Emerald Buddha Temple and Wat Pho.
When booking any of the above hotels, you can likely find deals in Bangkok through Trivago.
*****
Photo credits:
Shanghai Inn: Imola Grácia Marjai
Seven:Â Visnu Pitiyanuvath