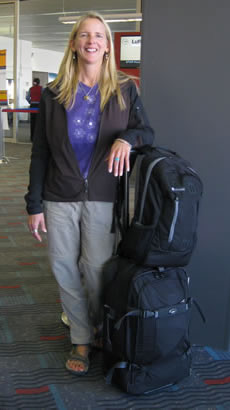 One of the questions I get asked most often is how I can possibly travel for upwards of 5 weeks to various climates and not have to check any bags.
Well, here's the answer to that burning question and a series of tips that will help you be a better packer, and (hopefully) not have to check a bag on your next trip.
First, I use a 22″ carry-on bag. For most airlines this is the maximum size that will fit in an overhead bin. My current preference is the Briggs & Riley BRX Explore 22 Upright. (Note that this is not pictured left.) I've taken the B&R bag on dozens of trips over the last 2 years and it has served my needs quite well and continues to hold up strong (even on the few occasions when I've been forced to check it).
I always use at least one compression sac in which I pack my clothes. Basically, these are like big Zip-loc bags. You simply put your folded clothes inside, spread them evenly in the bag, zip it up and then squeeze the air out until it's down to about 1/3 the size of the clothes without the air pushed out.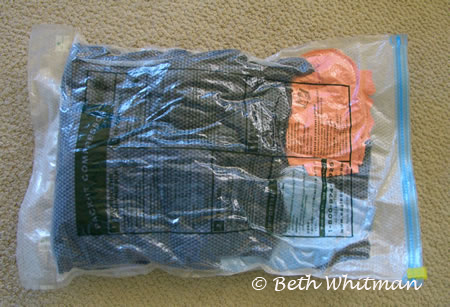 A large compression sac will easily sit in the bottom of my 22″ bag. If I need to pack more clothes than I would normally (perhaps because I'm traveling to both warm weather and cool weather climates OR I'm in need of both dress and casual clothes), then I'll pack my clothes into 2 compression sacs and layer these on top of each other. Still, these will both fit into a 22″ bag.
Note that your clothes will get wrinkled when you use these, but all the more reason to pack clothes that are wrinkle-free. Most travel clothing companies specialize in wrinkle-free pants, tops and dresses so it shouldn't be hard to find suitable items.
Now that you've got all your clothes packed and they are as hard as a brick 🙂 , what do you do about your delicate electronics? You can do several things…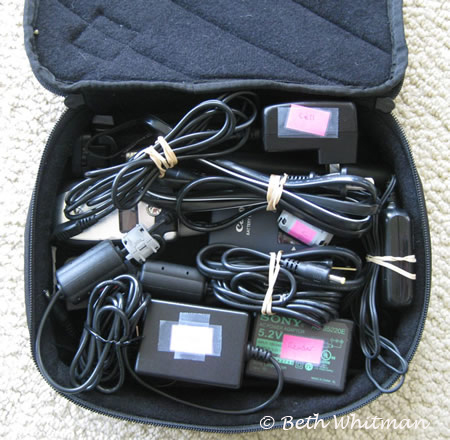 I organize mine in a padded packing cube (and yes, I label everything with notes so I can keep track of which cord goes with which camera, video recorder or spare phone). My cube is several years old and I actually can't find anything equivalent that's available today. (Hint – if you do ever see something on the market like the one above, snap it up because I don't think companies are making them anymore.) As an alternative, you can certainly use a soft-sided cube (available from a number of companies through Amazon) but it may not keep your items quite as safe as something with padding.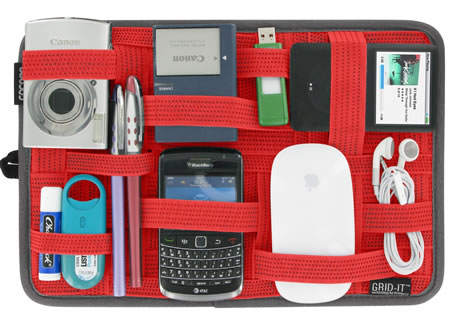 Another option is this GRID-IT organizer from Cocoon. I haven't used one of these myself, but it does look like a good option to keep all of your electronics in place and safe. You can reconfigure the straps to suit your needs so you're not stuck with pockets that may or may not fit your camera, phone or chargers.
The best tip that I can likely provide to you ladies about packing has less to do about HOW to pack than WHAT to pack. Never travel with more than 2 pairs of shoes. Any more than that and you are just way over-packing.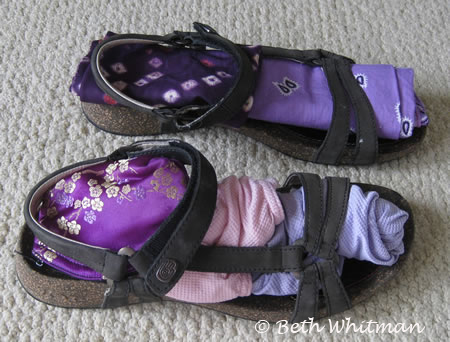 I wear my heaviest shoes on the flight and pack up my lighter shoes (such as sandals) in my bag – but not before stuffing them with things I can squeeze into them such as underwear, a bandana, protein bars, business cards or any other small-ish items. I then place each shoe into a plastic bag, wrap it nice and tight and then slip it down into the side of the carry-on bag.
I layer any other items on top of the compression sac including guide book(s), non-liquid toiletries and gifts for my guides or hosts, and snacks that I'll eat during the trip.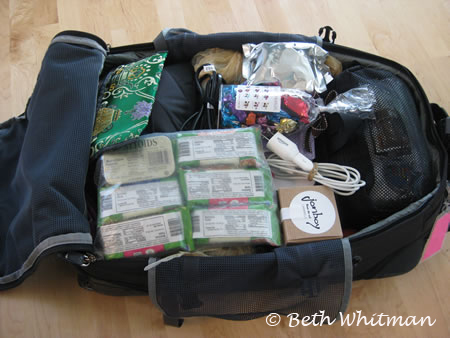 Though this photo was taken before I owned my Briggs & Riley, it's a good example of a carry-on bag filled with everything I need for a month (or more).
Keep in mind that you don't need more than a few changes of clothes – even for an extended trip. Get it out of your head that you need an outfit for every day. You really just need a few accessories (like a scarf, hat or costume jewelry) to give you (and perhaps anyone you're traveling with) the appearance that you're wearing something different. The locals will never know because you likely won't be staying in one place for more than a few days.
Once you've got your carry-on bag all packed up, you can then work on your day bag (the one that will slip underneath the seat in front of you on the plane). In this, you'll have your laptop (or iPad, netbook, etc.), a book, digital camera (for those out-of-the-plane-window photos), liquid toiletries and anything else you think you'll need during the flight, including snacks.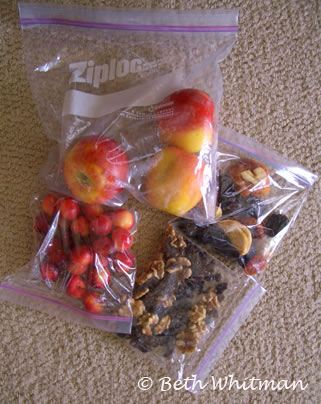 I know I'll be (over) charged for food on domestic flights and the food on international flights isn't particularly healthy – it's usually high in fat and calories (even the vegetarian meals, which I order). So, I always carry my own snacks including fruit, nuts and a sandwich bag filled with quick oats, walnuts and raisins. For the oats, I just ask the flight attendant for a cup of hot water, add my oats and I've got an instant hot (and healthy) meal in minutes.
*****
Finally, I should add that when carrying nicer camera gear, like my Panasonic Lumix, I either make sure I have enough room for it in my day bag or that it's packed in my 22″ carry-on in such a way that IF I have to check my bag at the last minute (some airlines do have weight or size restrictions that force me to do this) then I can just grab it from the bag, lock up the 22″ with a small TSA-regulation lock and not have to worry about it.
Voila! You are now ready to travel with just a carry-on bag and never deal with a checked bag airline fee again 🙂
Travel Well,
Beth
Related links:
When Travel Plans Don't Go as Planned
Fear-based Travel (and Life)
The Thing About Travel…