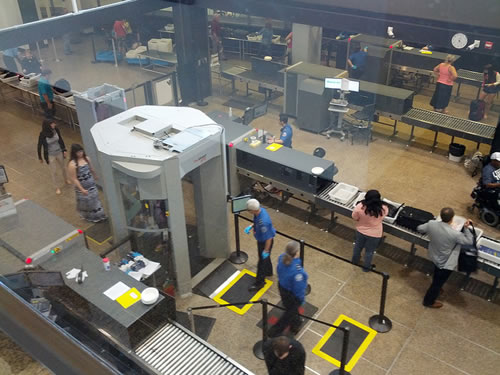 With the exception of two times, I opt out of going through the millimeter wave scanners at airports in the U.S. Those two times were both when I was at an airport for a layover and had to leave the terminal and re-enter but had a tight connection and didn't feel like I had time to opt out.
It's a personal choice I make based on my doubts about whether these scanners are safe. I accept the sometimes unpleasant consequences as a result, which is usually nothing more than an aggressive pat down by a cranky TSA agent–but even that doesn't happen very often.
A friend who knows my preference for opting out recently asked me for tips for opting out. That got me to thinking about how I handle these situations.
Related posts: ABC's of TSA Pre✓has  and ABC's of Global Entry
First, I'll admit up front that it can be an unpleasant experience to be patted down by a TSA agent. Especially when it's in front of everyone at the airport. But I think it is equally as unpleasant for the TSA agent. So I try to have some compassion. I try.
1) As nicely as I can, I let the TSA agent, the one who is ushering people through the millimeter wave scanner, know that I'm opting out. At that point, he or she yells out, "Female assist."
I then wait for a female TSA agent to come escort me through a gate, passing the body scanner. During this time, I always keep an eye on my items that have gone through the x-ray machine. I have a slight concern that someone may decide to pick up my laptop but more so I'm concerned about the way items get jammed together after going through the x-ray and how easily my things (specifically my laptop) could get dumped on the floor.
2) I always ask the agent how she's doing and if she's having a good day. If it's early morning I might make small talk about how early she has to come in to work. In other words, I try to break the ice, knowing that she probably wants to do a pat down less than I want one.
When Jon opts out (which is also most of the time), he quips to the agent that he'll try not to laugh (as if they're tickling him). Again, nice ice breaker to let them know he's not being hostile about the circumstances.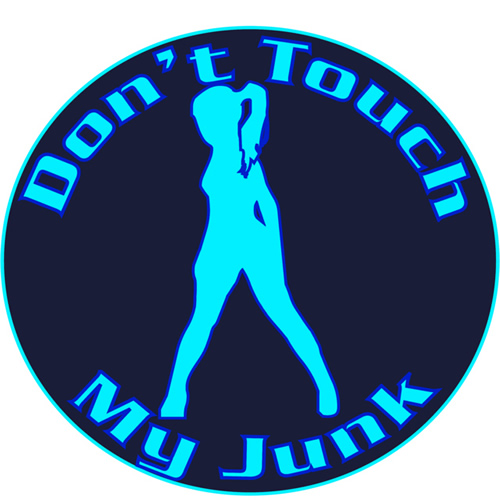 3) The agent will ask if you'd like a private screening. I've learned to decline this because it means she will have to find a second available female for the screening and this just takes too long. So I opt for the public screening. Choosing this option makes me hopeful that they won't be as aggressive about the pat down. In reality, I don't know if it matters because I've had some pretty aggressive female assists even when opting for a public screening.
4) The agent will then describe the process and how she's going to pat me down, including using the back of her hand (although according the ACLU site, this is no longer required) to touch under my breasts.
She'll lift up my shirt or ask me to lift it up so she can stick her fingers around the perimeter of my waist to check for… explosives?
5) She'll also check up and down my legs, up my inner thighs and, if I've got an aggressive agent, she'll remind me who's in charge by going as high as my groin. This has only happened to me three times but each one was quite memorable (the two most recent times I reported to the ACLU).
6) Once the patdown is complete, she'll swab her latex gloves and run the sample through a machine to check for explosive(?) residue.
Usually the machine beeps OK and I'm on my way.
On my most recent trip to upstate New York, I had a crazy stupid experience at Sea-Tac. I had TSA Pre✓ so I was able to simply walk through the metal detector. I didn't have to take off my shoes or remove my laptop or liquids from my carry-on bag.
Easy peasy, no?
No.
As I walked through the metal detector I got randomly selected for additional screening. This meant they wanted me to go through the millimeter wave scanner. So, I opted out.
I went through the regular pat down. But instead of the machine clearing me of explosives, the machine went off and I had to have even further screening, meaning that many of the items in my carry-on bags had to be removed so the TSA agent could check not only my electronics (which I could understand) but also my shoes.
Really? Like the shoe bomber? What about my underwear?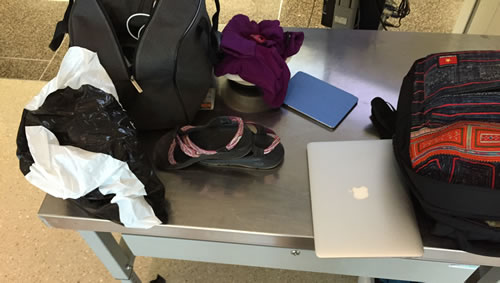 My TSA agent was really nice but I was not a happy camper. What should have been a relatively easy walk through security with TSA Pre✓ turned into a 20-minute ordeal.
Some people have suggested that I just get over my concern about going through the millimeter wave scanner. Suck it up, Beth. After all, these are used to protect us all.
But I have the ability to opt out. So why would I go through a machine that is known to cause DNA damage, even if the alternative is the possibility of an unpleasant pat down?
Yes, the technology in these machines has been found to cause DNA damage.
Just think of that next time you're at the airport. And have some more compassion for those TSA agents because those poor folks are exposed to those damaging scans throughout their work day.
P.S. – If you're traveling internationally, it's highly unlikely that you'll be given the chance to opt out in other countries. I tried it in Australia and they all but laughed at me. I've heard similar stories from people going through security in other countries. I guess we are the land of the free. 🙂
Be Bold,
Beth
Want to stay up-to-date on all things Wanderlust? Follow me on Facebook, Twitter or RSS/email.
Photo credit:
Body Scanner – Andrew Pilloud via Flickr
Don't Touch – Charles Fettinger via Flickr