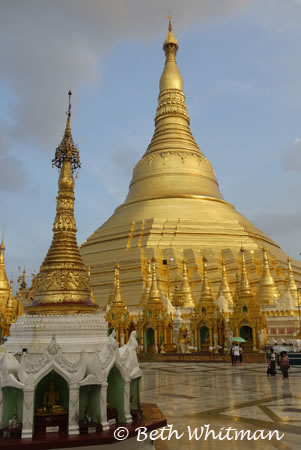 When I was in Burma a couple of weeks ago, my guide said, "Please, tell your friends to come visit. Before it gets spoiled."
My heart skipped a beat because I know what spoils a destination.
More people.
It's a conundrum. Travel can help the people of a region by providing exposure to the rest of the world (in the case of Burma this is incredibly important) and income to the locals who have no other means of making money other than through the tourism industry.
But where does this progress cross the line into "spoiling" a destination?
For people who have been traveling to Burma for 10+ years, they might say it is already spoiled. With the exception of one site that I visited, I can confidently say I saw no signs of spoilage. But with the government loosening its control over the people (and tourists), this is sure to change quickly.
As a tour operator, frankly, I struggle with this issue. I believe that travel could very well be the most important thing one can do in one's life. It opens up your world and makes you more tolerant to differences in cultures. And while tourist dollars can bring a lot of positive to a destination (puleez, will people go to Greece?), it inevitably changes the local culture – and it's not always a positive change.
I've always said that we have a responsibility to be ambassadors of our own country, to be good travelers, treat the locals with respect and do as little damage as possible. But as I wrote in my post about travelers behaving badly, we're not on our best behavior all of the time – and this reflects poorly on all of us.
So, what are the options?
a) We can stop traveling and leave destinations as they are. Imagine Angkor Wat without hundreds of baseball-capped tourists scrambling up the uneven stairs. Or Machu Pichu without trekkers making their way to the top, leaving their trash along the path.
b) Countries can impose inordinately high costs upon tourists – thereby limiting the number of people who visit. Bhutan does this. And in an unplanned way so does Papua New Guinea. Ultimately it helps keep the culture intact and the growth of infrastructure and damage at a manageable rate.
c) We can continue to travel but become better travelers. We'll never be perfect. And every interaction with locals will leave some imprint. But we can limit our impact by making thoughtful choices.
Yes, I am putting together a group tour to Burma for late 2012. Yes, I want to get back there quickly before it's spoiled. And, yes, I will do everything I can to ensure that I and my group are not ugly Americans (or Canadians, or Europeans, etc.) and make as little impact on this quickly changing culture.
You enjoy travel… What are your thoughts/suggestions on how to address this issue?
Travel Well!
Beth
Related posts:
Travelers Behaving Badly
What's Wrong with Me?
Why We Travel