On our recent visit to Denver, we stayed at The Curtis hotel, located downtown.
It was my first stay at The Curtis and I loved it because of how unique the hotel is. Every floor is themed and every room is decorated based on the theme of that floor.
I thought it would be fun to share with you some photos of those rooms…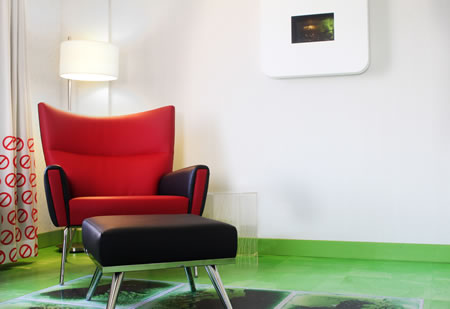 We were on the 13th (scary movies) floor in the Ghostbusters room. It's hard to tell from this photo but the darker green squares on the floor were actually filled with a gooey substance so that when you stepped on it, the gel would move around. The room had Ghostbuster-like memorabilia including a book on ghosts. And did you notice the curtains?
When I return to The Curtis, I'm definitely going to request a room on the music floor. Here you'll find the KISS room…
The Spice Girls room…
The Jimmy Buffet room…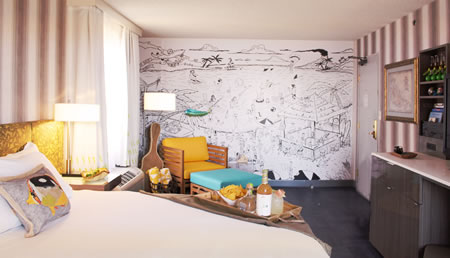 I suspect the Jimmy Buffet room is particularly appropriate now that Colorado has loosened its laws on marijuana. 😉
In addition to the unique rooms, The Curtis has a festive lobby, with retro styling that features olde time sweets available for sale and games like Boggle for anyone to play.
The Curtis is located in an excellent location downtown and is within walking distance to the 16th Street Mall as well restaurants and coffee shops. We even walked to the Botanic Gardens (about three miles away) from here.
The Curtis is definitely worth a visit next time you're in Denver. It can easily be booked at great rates through Trivago.
Be Bold,
Beth