Jon and I used to make it a habit to get away one weekend a month. Even if it was just an overnight trip to a nearby island or cabin in the mountains. The drive. Sitting by the fireplace for the night. It gives us the chance to unplug, have some alone time and not be distracted by technology.
Those monthly getaways are, sadly, fewer and farther between because we both have jobs that keep us busy and traveling elsewhere. And, when we're in-country or state, we enjoy being at home.
Yes, sometimes these weekends are replaced with a week in Spain or Italy or Hawaii. But for me, there's nothing like packing the car with a duffel bag full of clothes, a grocery bag full of snacks (Goldfish, always Goldfish) and water bottles and CD's or podcasts that we both enjoy.
That one-on-one time we get to chat and just enjoy each other's company without the backdrop of a movie or Facebook Feed is priceless. It helps set the tone for the fun we'll have while away :-).
Last weekend, we took the drive to Portland, a relatively short three-hour jaunt from Seattle, to take advantage of the city's Portland Passport deal. I've known about this program, which they run each winter, for a few years but this is the first time I've been in the country long enough to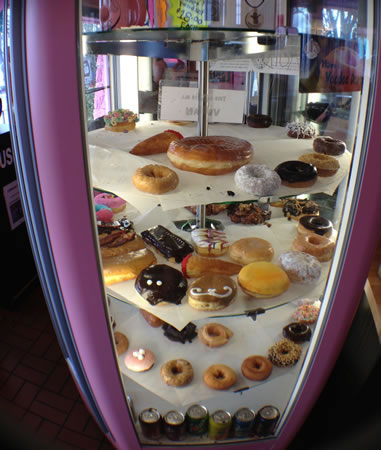 be able to get down there for it.
Here's how it works.
If you book your stay at one of the participating Portland Perk hotels (and there are A LOT of options), you receive your Portland Passport as well as free hotel parking, breakfast and coupons for other deals in the city. The Portland Passport itself gives you a whole host of goodies including:
The value of the Passport, by the way, is about $45.
At first, our plan was to check out everything on this list during our weekend but by Saturday afternoon it was obvious that we weren't going to make it. We had already had breakfast and filled up on our doughnut and waffle cone, picked up our chocolate salami and
taken the brewery tour. That in itself was enough to keep us busy (and buzzing) for the weekend. Saturday night we detoxed at Whole Foods with a takeaway salad and some tofu.
But by having this goal of visiting all the stops on the Portland Passport, we got to know the city better than during any of our other trips to the city because we mapped our way from one district to the next – looking for the stops on our Passport – and invariably finding hidden goodies along the way.
In addition to the places on the Portland Passport, we also:
Had dinner at Produce Row Cafe
Visited a Buddhist Meditation Center for a dharma talk
Walked for miles around the Pearl District, visiting many independent shops
Had breakfast AND lunch at Prasad (we went all vegan after our previous day of sugar!)
Walked more – around Mississippi and Alberta Streets – two areas where independent shops abound and flannel is fashionable
Shopped for caramel sauce and chocolates at The Meadow
Browsed Cargo for some incredible import deals
Seriously. All this in less than 48 hours. What's not to love about Portland?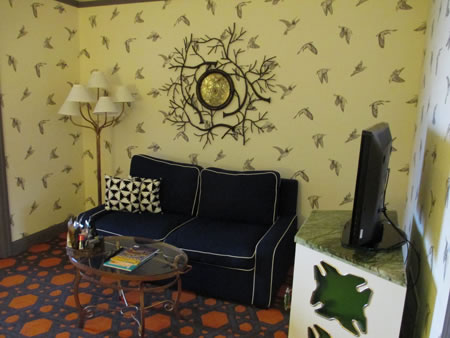 We stayed at Hotel Monaco, a Kimpton property (I love Kimpton almost as much as I love Goldfish). Every hotel is so unique and usually quirky in some wonderful way.
The walls on our room were decorated with flying birds. And we had a small fish tank with a live fish in it.
In the late afternoon, they hosted a wine and beer happy hour near the lobby (with a fantastic fireplace). And in the mornings, tea, coffee and hot chocolate (with coconut crusted marshmallows and whip cream) were available.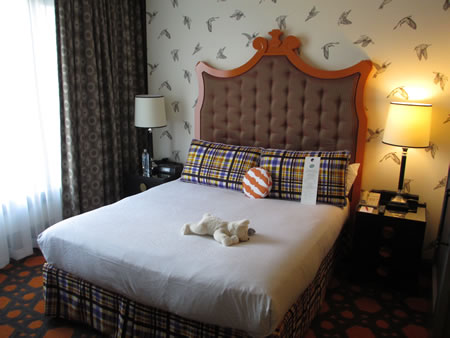 We even had celebrity spottings as the Boston Celtics were staying there, too.
The Hotel Monaco is located downtown, which made a lot of things easily accessible for us by foot (tons of shops, restaurants and even Powell's Books). But we're walkers, so we even made it across the Morrison Bridge to the east side for dinner (burnin' those calories!). Speaking of which, the hotel also has a well-equipped gym which we visited twice. (They even had hula hoops!)
So, yeah, I recommend you take advantage of Portland Perks and the Portland Passport deal. You'll need to book and stay before March 31st. So get your honey (or go solo) and create a little staycation for yourself. (And don't forget the Goldfish.)
Travel Well,
Beth
Related links:
Salish Lodge Staycation