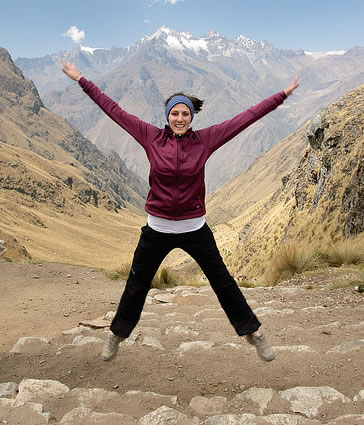 Update 2/6/13 – This post was written prior to my learning of the murder of Sarai Sierra in Turkey. I'll be following up soon with my thoughts on solo travel as it relates to Sarai as well as the unbelievable backlash at women who want to travel solo.
*****
Late last year, many of you answered our newsletter survey. What you wanted more of was info on solo travel, traveling as a woman and budget travel.
This is the first in what will be a series of mostly Monday posts called On Traveling that will cover a variety of topics. Missed the survey but still have an opinion on what you'd like to hear more about? Leave a comment below. Simple as that 🙂
*****
First, a little background…
I started Wanderlust and Lipstick (the book series and website) because I had traveled solo for much of my life and I wanted to encourage other women to do the same. I started teaching classes For Women Traveling Solo after returning from a year-long backpacking trip through the Pacific Rim countries. I taught 2.5 hour workshops at community colleges in the Seattle area and loved it. But when the internet exploded, I knew that I could get my message and words of inspiration out to a larger audience.
So, that's how this all started. I was moved to help other women get out on their own to travel by providing tips and, hopefully, a bit of kick ass inspiration.
If you've ever considered a solo journey, you've likely heard your friends, family and colleagues say that you can't travel by yourself because…
It's unsafe
You'll be lonely
You'll have no one to eat meals with
You'll have no one to talk to
It's more expensive to travel by yourself
You can't leave your husband/partner/friends/kids/etc. home while you're off having fun
Yadda yadda
Today, let's explore the safety issue.
Indeed, as solo women travelers we may be more frequently targeted by a thief or sexual predator but that doesn't mean we have to be more vulnerable. We've got our 6th sense and by paying attention to our surroundings and going with our gut, often we can avoid high risk situations and/or extract ourselves quickly from potentially dangerous encounters.
I interviewed numerous women when writing Wanderlust and Lipstick: The Essential Guide for Women Traveling Solo. Some of these gals had shared stories about nearly being attacked. Though my sampling may have been small, all of these women admitted that from the beginning of the encounter, they had a feeling that something wasn't quite right but they didn't know how to remove themselves from the situation. They didn't want to be rude, they didn't feel confident enough to stand up for themselves or they didn't know what to say.
I think we've all been there. We accept a ride from someone who may seem a little creepy but because he's a friend of a friend, we think it's OK. And because we're in a new city, we're grateful that someone's willing to show us the way home. We allow a conversation to go on a little too long with that stranger on the train in Amsterdam because we don't want to be impolite and we're feeling a bit lonely anyway. Or we accept a dinner invitation from from the cute guy at the backpacker hostel in Bangkok because, well, he is so cute (despite the tattoos on his knuckles).
And while I think every one of these situations COULD yield a life-long friendship (and perhaps even a real romance), the opposite is also true. It's quite possible that danger could be lurking just beyond that winning smile.
So how do you know the difference?
First and foremost, are you putting yourself in a risky situation? Walking back alone to your hotel late at night because you don't want to pay for a cab? Hitchhiking in an unsafe neighborhood? Sipping drinks alone at a bar while you wait for a friend to arrive?
The above examples are all things I've done. And none of them are probably the wisest of moves. I've been really fortunate, but I'm also hyper alert in these situations. Doing the best I can to ensure no one's following me when I am walking alone; turning down rides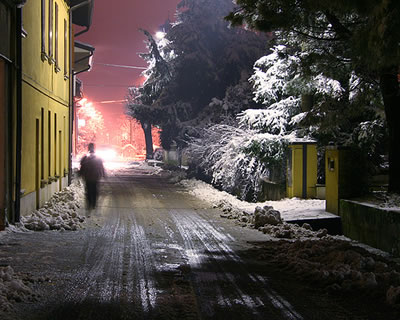 from suspicious characters (hey, for the record, I haven't hitchhiked in more than 20 years); not striking up conversations in bars when I'm on my own.
While it's true that there may be some luck involved when it comes to being safe, it takes awareness and confidence to avoid issues in the first place and then even more confidence to extract yourself when you're uncomfortable in a situation.
There are some people who will read this and say I'm blaming the victim. But I'm not. I'm simply saying that when it comes to traveling solo, many times we can take precautions to ensure our own safety and that we can extract ourselves from potentially harmful situations if we don't buy into the idea that we have to be nice ladies all of the time.
Having said that, we should be open to new experiences and the opportunity to meet others while we're on the road. The truth is that it's quite common to travel to another country and be invited to someone's home as their honored guest.
Suss out the situation, be alert to potential dangers and have fun if you really feel like the situation is safe.
For those nervous newbie travelers or those maybe not as confident as others, I always recommend taking a self defense course to provide you with a bit of courage. Walking with self confidence might be all that it takes for a would-be thief to pass you on the street rather than trying to snatch your bag.
The bottom line is that other people's fears that they project on to you, that "it's not safe to travel alone," should not even be in your vocabulary. It's not the "alone" factor that necessarily makes a situation unsafe. Often it's the "being careless" factor.
Travel Well,
Beth
Related links:
How to Save Money for Your Travels
Getting Over Your Fear of Travel
Photo credit:
Woman Jumping – Cory Spruit
Woman walking in Snow – Marco Lazzaroni