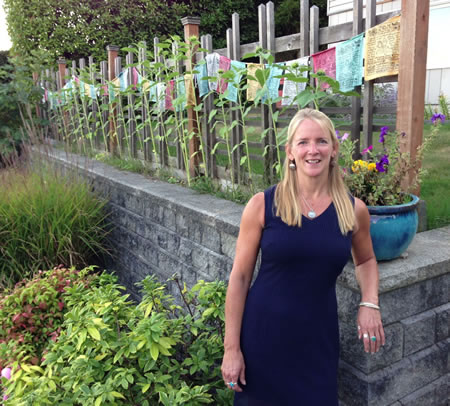 For those of you following me on Facebook, you know that I just completed the full 90 days of P90X.
For those of you not familiar with it, P90X is an extreme fitness program. For about $140, you get 12 DVDs, each of which includes a different hour+ -long workout that includes weight training, cardio and stretches. You work out for six days and then have a rest day. While it is extreme, I'd argue that most people could do it as long as they are modifying the program based on their abilities.
I didn't know what P90X was until late June, when Monica, a participant on our Seattle Culinary Tour, mentioned she had lost a lot of weight (75 pounds!) by doing P90X. My ears perked up. Not because I wanted to lose weight but because I wanted a way to stay in shape while I travel. I was looking for something beyond running which I had taken up a couple of years ago but became a bit bored with. And I wanted something to help me train for the Snowman Trek (more on that below).
Monica explained that P90X (like Crossfit), works on the premise of muscle confusion so that your muscles don't plateau. Every day you're working a different set of muscles and alternating between weight training, cardio, and stretch exercises (including yoga).
My initial thought was that there was no way I could carve out an hour a day for exercise. But given my desire to: keep up a workout routine; have something I could do on the road; increase my flexibility; and do something that would help me get fit for the Snowman Trek, P90X seemed like a great option.
So, with little info other than Monica's recommendation, I dove in. I learned about P90X on a Saturday, ordered it on Monday, received it on Wednesday and I started it on Thursday, July 4th.
I'm actually glad I didn't know much about it in advance because it's freaking hard. It wasn't until I was more than 60 days into the program that I saw the infomercial for P90X which makes it look impossible. If I had seen the infomercial before talking to Monica, I would never have done it because it just seems so, well, cheesy. So infomerical-ish. But word of mouth recommendations work.
And, boy, am I glad I dove in.
Here's a little roundup on my experience…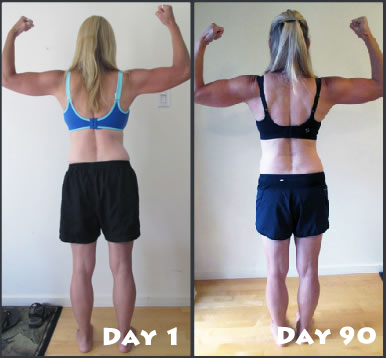 P90X for the Traveler
During my first 90 days, in addition to working out at home, I worked out in Salt Lake City, San Jose, Atlanta, New Orleans and Kansas City. So, yes, it's possible to keep fit on the road. It's just not as easy as doing it at home…
There was one time when I nearly kicked over a lamp in my hotel room because my workout space was so small.
I packed and had to work out with resistance bands rather than dumbbells and a chin up bar. It took time for me to figure out which color band (each color is a different resistance) was best for each workout and this stretched some of my workouts to an hour and twenty minutes.
Think it's hard following the nutrition plan at home? It' doubly hard on the road – especially when you're in New Orleans researching a culinary tour. But many visits to Whole Foods and stocking up the hotel room fridge with Chobani yogurt helped.
My older laptop has a DVD slot so I was able to play the workouts on my laptop but for those without a DVD player, you'll need to either find the programs online and stream them or, as one of my friends did, bring a portable DVD player.
My workouts
During the first week I could barely raise my arms over my head, I was so sore. And during those first couple of weeks, I was nearly in tears because I found some of the exercises so hard. There were days when I was swearing at the video astounded that anyone could actually do the workouts (especially some of the yoga poses that I still have difficulty with). You're encouraged to track your weights and reps each week on the free downloadable workout sheets. Most of my swearing subsided in the first month because I was seeing progress week over week.
As time went on, I started hating some of the DVDs less and then started having favorites (I do still love Kenpo and Plyometrics). Even if I didn't like the workout, I always felt great afterward and never once regretted completing that day's exercises, so I kept going.
I'm an early riser. Getting up at 5 a.m. meant that I could get up and have my workout done by 7. When traveling, it meant I could workout early and then have a full day of work and/or travel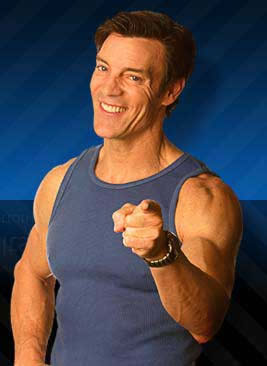 without it hanging over me.
Jon started P90X a few weeks after me so my early workouts also meant that I could be done by the time he got up to work out.
Luckily, many of my travel days fell on my rest day. That meant I could take my early morning flight and have my day free without worrying about P90X. When I did have to fly early in the morning on a workout day, I simply worked out in the late afternoon after checking in to my hotel.
Tony Horton (right) is your coach and fearless leader on all the DVDs. I quite like Tony but some people find him a bit irritating (mainly, I assume, because you have to listen to his same jokes over and over). But I find him to be motivating and just when I'm "dogging" an exercise, he reminds me to lunge lower, add more weight or squeeze in another push up.
On being vegetarian/vegan on P90X
The nutrition plan calls for a large quantity of protein. I'm a vegetarian but was leaning toward veganism prior to P90X. I found being vegan very difficult. Though there are definitely vegan athletes (Brendan Brazier being one of the most notable), I found the cost of vegan protein powders and bars to be cost-prohibitive and instead stuck with whey proteins and bars.
Most days my meals included a lot of the same things: a protein shake after my workout, a bowl of oatmeal, salad, tempe or tofu, protein bars, Greek yogurt, veggie burger, apple with peanut butter, carrots, and sometimes another protein shake or protein bar at night. Some days I ate as much as 120 grams of protein. An unimaginable amount for me prior to P90X.
Once Jon jumped on the P90X train, our trips to the grocery store always included a stop down the aisle where we could find protein powders and bars. We compared prices, shopped on Amazon and bought in bulk when things were on sale. We swapped stories and food suggestions with friends who have also done high intensity training (and it turns out there are a lot more people in our circle than we imagined).
In the early weeks, I craved things that were not great for me. As in, I-gotta-have-some-nachos. But I always felt terrible afterward and remembered that feeling the next time I had a craving. Those cravings were short-lived.
Around day 65, I hit a turning point where my metabolism kicked in. I could tell because I developed an insatiable appetite. Where pre-P90X I could only eat about 1200 – 1300 calories a day without gaining weight, I began eating as many as 2,300 calories on my more intense workout days. Now, my average intake is easily 1700 – 2000/day just to satisfy my body's needs.
I heard more than once that abs are made in the kitchen. In other words, you're not gonna get great abs until you eat "clean" and cut your body fat way down. So it's been a delicate balance of eating enough to fuel my upped metabolism but not so much that I won't lose my belly fat.
Insatiable thirst
I've never drank so much water than I have since starting P90X. I carry a water bottle around with me where ever I go and usually drink at least 72 ounces/day. When I work out, I'll sometimes add a Nuun electrolyte tablet to the water but more often than not I spruce up the water with a little lemon juice.
Drinking alcohol on P90X
I'm not a big drinker and this means that unlike a lot of people, I didn't have to cut back on alcohol. I did have an occasional glass of wine and allowed myself that without being too worried.
Staying motivated
One of the things that kept me so motivated was that I was learning something new every day about nutrition and my body. Nutrition is an integral part to succeeding (losing fat and gaining muscle). I learned why a high protein diet is so important to high-intensity trainings – it's what makes your muscles – and why eating my veggies is SO important – the nutrients tell your body you're full whereas eating empty calories like Fritos tells your body you need more food so you end up overeating.
It was fun to watch each week as I got stronger. One more pullup! More weights or more reps for that exercise! I got through an entire workout without pausing the DVD!
But maybe the greatest motivator was to see if I could push myself through this difficult 90-day program. It was a test of sorts as Jon and I plan on doing the Snowman Trek in Bhutan next year. It's called the hardest trek in the world. Although I've trekked in Bhutan leading two separate tours, the Snowman Trek is another beast all together — 25 days with 11 passes, many of them over 16,000 feet. We're gonna have to be in great shape (physically and mentally) in order to accomplish this. At least now I know I can push myself beyond what I thought possible.
The results
In the first couple of weeks, I could tell my upper arms were getting more tone. I could also tell my stature had changed – I was naturally standing up straighter. I could also feel my stomach muscles getting tighter.
I noticed around week three or four that I started to get a little paunch in my stomach. This bummed me out initially until I realized that I only noticed the paunch because the fat around my hips and lower abdomen was disappearing making it look like I had more of a belly.
Early on I threw out/gave away some clothes that no longer fit properly. Mostly bras and some shorts.
They say that women see the best results after 120 days (I'm now 97 days in). I personally don't feel like I've quite made the progress I'd like, BUT, I will say that I've gained muscle in my arms, back and chest. I can see my hips. And I can walk the hills around our house faster. (And hey, who wouldn't love to be able to eat another 800 calories/day without gaining weight??)
I definitely have more energy and by late afternoon I'm ready to get out for a long walk because my body needs to move.
Unintended benefits
This is gonna sound weird but for a few years, I had these three little warts on my right hand. They were pretty small so they didn't bother me much and I don't think anyone ever noticed them. I did try a couple of methods to get rid of them but to no avail. So I just lived with them.
Somewhere about 4 – 6 weeks into the program, I noticed they had disappeared. Completely. And I haven't seen anything from them since. I dunno if it was the exercise, the increase in protein, the absurd amounts of water I'm ingesting or just that my body is cleaner for all of these reasons.
Though I do eat protein bars, I'm now so turned off by processed foods I can no longer reach for a bag of potato chips like I once could. And when I look at a slice of pizza, I think about how much it's going to slow down my system and will feel like a gooey mess in my stomach. Yeah, I've become super boring when it comes to food.
Here's Tony in a Ted Talk about the importance of exercise:
Bottom line
P90X results are different for everyone. If you have weight to loose, you'll see results quickly if you are following both the exercise and the nutrition program. Because I didn't have much to lose, my results are not as pronounced as someone who's in it to lose weight. Truth is, I actually gained about four pounds. But the beautiful thing is is that my body is trimmer, my arms toner and my hips and belly are disappearing.
If you start
Make sure you have a support system in place. Join the P90X Facebook group where you can read questions and answers from its members.
Start P90X with a friend or find someone else who's done it (like me!), and get some feedback and support.
Beachbody.com has message boards and you can get your own coach. Also lots of great info.
Would I recommend it?
Absolutely. I think everyone needs a program like this. It's really changed my life. Not because I had some dramatic results from it (although there are a ton of stories on the Facebook group for that), but because it's opened my eyes to the possibility of what my body is capable of.
I always thought that a strong physique was for "those" people. It was for rock stars and First Ladies who had access to the best trainers and chefs in the world. I now see that it's for us mere mortals, too. As long as we're willing to dedicate time to the program. (And oh-my-god, I sound like an infomercial!)
Travel Well,
Beth
Related links:
Moving Comfort Workout Clothes