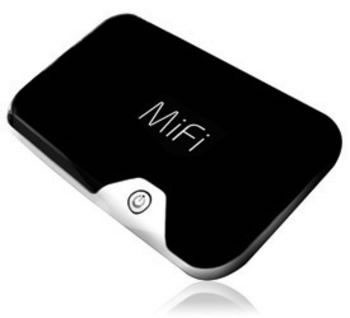 When Debbie asked me if I wanted to get MiFi before the trip to Zambia, I said, "Nah. I'll just use the WiFi at the hotel. I can't imagine needing it anywhere else."
Despite this initial response, I ended up requesting a review sample of this mobile hotspot from XCom Global because I thought it might come in handy for Debbie and Michelle (see how thoughtful I am?). Up to 5 people can log in so I knew I could take advantage of it – you know, just in case 🙂
So, what IS a MIFi Mobile Hotspot?
Simply put, it's your own personal WiFi, similar to your WiFi box at home. Only this is portable, uses rechargeable batteries and works, well not everywhere, but in a lot of places.
We first fired it up when we had an hour at the Johannesburg airport on our way to Lusaka. Rather than pay for the airport's WiFi service, we turned on the MiFi, logged into our computers, found the MiFi signal, entered a password and we were online within minutes. IT was that simple.
Other places this worked?
In our hotel in Lusaka, when the in-room WiFi was too slow.
In the lobby of the hotel, when the WiFi was too slow.
At restaurants throughout Lusaka when no internet connection was available.
At the library where we had the opening ceremony for the Passports with Purpose library.
On the highway, in the car, heading to and from the library – an hour and a half outside of Lusaka.
And at the Frankfurt Airport.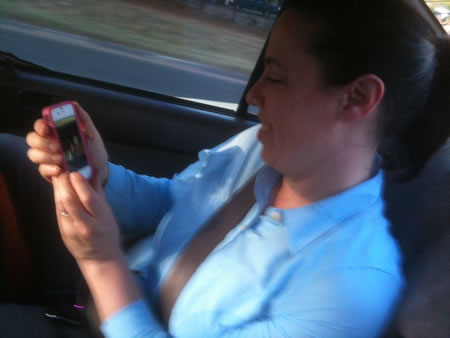 < That's Debbie Tweeting photos from the backseat of our car, using MiFi.
I remember the good old days – what, 5 years ago? – when you had to have your computer connected TO your internet connection through cables (and, yes, I remember what a dial-up tone sounds like). Now it's just magic! This tiny device can provide internet service (nearly) worldwide. (Note – While the website states that MiFi works in 195 countries, I spoke to representatives of the company and they said they were unsure if it would work in Bhutan or Papua New Guinea – countries where I travel frequently. Bummer.)
The cost is $15/day for use in one country. Really not bad at all considering what some hotels and airports charge for WiFi. Be sure to check with XCom Global if you are traveling to several countries as the rate may be higher.
The rental process is simple – all done online with the unit arriving via FedEx in time for your travels. A pre-paid envelope is included for easy return of the unit.
Unfortunately, these are only available for rent. If I had my way, I'd own one – I can see it being that useful to a frequent traveler.
Travel Well,
Beth
Related links:
Bolle and Serengeti Sunglasses