I recently wrote a post about how to save money for your travels. But I realize that equally important is how to save money while you are actually traveling because all of those hard-earned dollars you tucked away in your piggy bank can get eaten up super quickly once you're on your way.
Here are some tricks that I use while I'm on the road…
1. Strategize the best way to get from the airport to your hotel. First check with your hotel to see if they offer an airport pickup. I was delightfully surprised during my recent trip to Salt Lake City when I found out my hotel offered a free shuttle service (not only to/from the hotel but around town as well). I didn't even know it until I called to book a shuttle service with a private company. They were kind enough to tell me that my hotel would pick me up for free. Bonus!
If your hotel doesn't offer a free service but they will still arrange a pickup, they will likely charge more than a taxi for this convenience. Sometimes that's OK – you may not want to haggle with a taxi driver in the middle of the night when you land in Dubai. Just make sure you know the upfront cost.
And if you're up for a bit of a challenge, consider taking a taxi on your own OR figuring out if there is public transportation that will get you close enough to your hotel that you can walk from a dropoff point.
Money saved? Easily $15 – $50 per trip.
2. Walk or take public transportation at your destination. Once you've checked in to your hotel, you've grabbed a map from the front desk and have a lay of the land, start exploring by foot. I love just wandering around a city (or even countryside) on my own. You never know who you'll meet along the way or what sights will be ripe for exploring because you've simply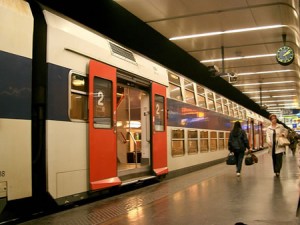 stumbled upon them.
You can find printed walking tours of many cities (these are often listed in guidebooks). I find them to be an excellent starting point but I often meander off that track to make discoveries of my own (which usually consists of bakeries).
In Barcelona I walked for hours and hours through the city. But it wasn't until I discovered a walking tour in my Top 10 Barcelona guide that I started noticing some of the lesser-known Gaudi (and Gaudi-like) buildings. Architecture that I had previously missed during my walks.
On a rainy day in Paris, Jon and I purchased a metro pass and spent the day seeing how many popular sights we could take our photo in front of. That pass likely cost us less than $15 each and it got us through most of the city and all the major sites (The Louvre, Arc de Triomphe, Sacre Coeur, Notre Dame, etc.). Plus we had a blast, despite the rain. Actually, likely because of the rain – if it had been nice weather, we might have spent the day lazing in a park.
Money saved? Over the course of a trip you could easily save hundreds of dollars if you were to rely on taxis for many of your trips around a city.
3. Stay in a bed and breakfast. Well, maybe not literally a B&B, but when breakfast is included in your hotel stay, you can save a bundle for sure.
I met a couple of gals at the airport in Oslo (Norway, by the way, is an incredibly expensive country). These gals boasted of their ability to eat a large breakfast at the buffet (and, OK, tuck away a few extras in their purse) and then not have to purchase another meal for the rest of their day. I'm not necessarily advocating for swiping stuff from the buffet table, but I'm sure you can relate to how filling up in the morning could get you through much of the day without dropping a lot of money on a large meal or two later.
Money saved? Depending on your appetite, you could save approximately $5 – $25 per meal.
4. Limit your credit card charges for international travel. Most credit card companies charge a fee – anywhere from 1.5% – 3% – for international charges. While it can sometimes make sense if you're receiving mileage points for these purchases, you have to weigh that against these additional fees as this can really add up if you're making larger purchases during your travels (think: expensive souvenirs or hotel bookings).
Money saved? The savings might be minor, depending on your spending habits, but wouldn't rather keep even $20 in your pocket rather than seeing it go to the credit card companies?
5. Carry your own snacks. As I pointed out in this Snacks for the Road post, there are some
easy ways to get around having to purchase meals or snacks if you prepare a little in advance of your journey.
When not staying at a hotel that includes breakfast, I simply carry my own baggie of instant oatmeal that I mix with raisins, walnuts and cinnamon. I use the coffee maker in the hotel room to heat the water and, boom, I've got my own instant and healthy breakfast.
I'm also not shy about asking for a cup of hot water at a cafe at the airport (or in-flight) and just mixing up my oatmeal on the spot. This came in super handy at the Seoul airport a few years ago when I had a ten hour layover and the cafes and restaurants had no vegetarian options (that has since changed).
If I'm staying at the same hotel for more than a few nights (and there's a fridge in the room), I might purchase a box of cereal and soymilk.
Money saved? During a week-long vacation, I bet you could save more than $100 by carrying just a few snacks for yourself.
*****
These are just a few ways that you can shave expenses off of a trip – whether you're traveling for a week or for months. I'd love to hear how YOU save money during a trip.
Travel Well,
Beth
Related links:
On Traveling: With Resilience
On Traveling: Solo Safety Issues
Photo credit:
Monk with Money – wonderlane
Paris Metro – edwin.11