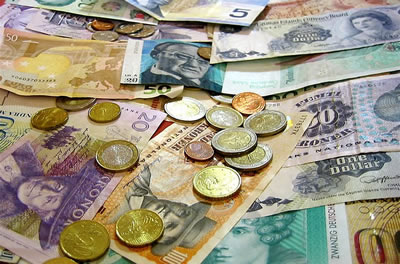 I was asked recently what the number one excuse was that I heard as to why people can't travel. While there are several top reasons that I hear, often it's the lack of funds that top the list.
I haven't always been rich (HA HA – that's a total joke. I. Am. Not. Rich.) so I thought I'd take a moment to describe how I got into travel and how you can create a stockpile that's designated for an adventure.
In my early days of travel I lived in New Jersey. I had (still have) a degree in Media Communications and was going to be a DJ. I worked part time at local radio stations and supplemented my $6/hour DJ job(s) with temp work. I worked at pharmaceutical companies and at companies that manufactured such things as copiers. I hated it. But I had an ulterior motive. I stockpiled my money, saving it for travel.
Temp work allowed me to come and go as I pleased, which I did often. I drove to Alaska twice and took off for 3 months with a boyfriend who wanted to visit India (thanks, Pat!). That trip also took us to Thailand and Nepal and it was in Southeast Asia that I got hooked on travel.
I moved to Seattle and worked for a photo lab. Though I made more than $6/hour, it wasn't much more than that. But I started stockpiling money again and my next adventure was a year-long trip through the Pacific Rim countries. Confession: I did receive an inheritance from my aunt of about $5,000 that allowed me to travel for that year. As you might imagine, $5,000 is not a lot of cash for the road and I had to supplement it with my own savings. I also plunked myself down in Sydney, Australia and worked (illegally) for about 5 months before moving on.
That's a very brief version of my travel history but it's the set up to tell you that you don't have to be rich to travel and I'm living proof of that. Here are some suggestions to get you started…
1) Curb your expenses on meals. Work a day job? I bet you eat lunch out most days. Did you ever stop to think how much money you're spending at every meal? I bet it ranges anywhere from at least $6 – $10. Know how cheap a hotel room in Bangkok is? You can find one for as little as $5 and have a clean one for as little as $35Â  :-). Now just think about how those daily lunches can add up over the weeks, months and year and how easily it would be to bring a lunch that might cost anywhere from $2 – $4 every day. Put that money away for your travels!
2) Consider getting a credit card where you get points for every dollar or two that you spend. If you're a disciplined person, use the card for most of your purchases so that you can rack up points more quickly. (Pay the darn thing off every month, please.) I have a friend who uses her Southwest Airlines card for all of her business expenses and often flies for free on SWA because she has so many points.
A couple of years ago I started using an American Express card. The first year was fee-free but I've found that even paying the $125 yearly fee has worked out well for me. Over the Christmas holidays I saved $400 on a car rental (the total for less than a week in New Jersey was $600+) and have used it to save on other car rentals as well.
3) Don't limit yourself to hotels. Accommodations can definitely get pricey but there are a lot of options beyond expensive hotels. Hostels, obviously, are one option. But, with websites such as AirBnB, you can find a place to stay in someone's home at a fraction of what a hotel might cost. Sure, you may not have the privacy or amenities you'd find in a hotel, but that's part of the adventure of saving some dough. I've also used Couchsurfing and GlobalFreeloaders. No money changes hands with the latter two but it's hit or miss in terms of the type of accommodations.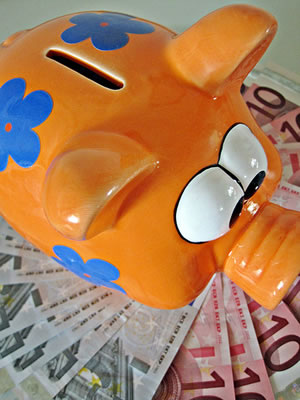 4) Change your approach to fun and entertainment. No, you don't have to cut out all of your entertainment and drinking. But the next time you think about indulging in a specialty drink for $8 or picking up a $35 bottle of wine, consider how much closer you might be to your dream vacation if you passed on those pricey items. And that $12 movie at the box office and the $7 popcorn? Wow, that stuff adds up. Rent a movie at home, make your own popcorn (it's healthier, too!) and stash the cash in your travel piggy bank.
5) Curb your shopping habits. Go check your closet and take note of how many clothes and shoes you own. Go on. I'll wait… It's crazy, isn't it? Do you really need all of those? Next time you find yourself at the mall or a downtown shopping center, remind yourself how much you already own and go take a walk instead of shopping.
Consider cleaning out your closet while you're at it. Bring those items to a 2nd hand store that will offer you money for your used items or sell them on Craigslist. I just sold a pair of purple Converse sneakers on Craigslist for $20 that were in great condition but a tad small for me. You can bet that that $20 went into my special fund. Alternately, you could donate those clothes and, depending on your tax status, you could take a tax break on them.
*****
If you really start paying attention to just these few items, you'll see how easy it is to create a slush fund for your next adventure and also save some money while you're actually on the road.
Travel Well,
Beth
Related links:
Dollars and Sense for Solo Women Travelers
4 Tips for Handling Money While You Travel
Photo credit:
Foreign currency – Phillip Brewer
Champagne – e_calamar
Piggy Bank – Images of Money