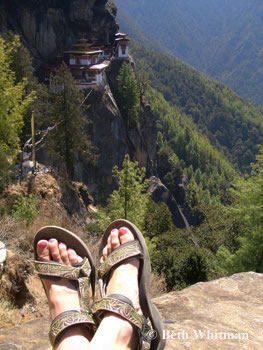 Last week at ITB in Berlin, I ran into Gary Arndt from the very popular website, Everything Everywhere. I joked with Gary over the fact that he was wearing sandals without socks when it was (literally) freezing outside. He said he does that for a very practical reason. As a nomad, spending most of his time on the road, he discovered that it was his socks that he was having to wash most frequently. So he eliminated the problem altogether and stopped wearing them.
I totally get that rationale.
I pack so few clothes when I travel that I find myself having to wash them out often – particularly socks and underwear. Because my trips are relatively short compared to Gary's, I don't mind it so much. But I can see how someone who spends the majority of his time on the road would just get tired of having to do laundry every few days.
I've written a number of posts over the years about packing light, including this one about packing your carry-on bag. Today I thought I'd focus on the issue of clothes.
Layer – If you're traveling to cool or temperate climates, it's easy to layer your clothes, giving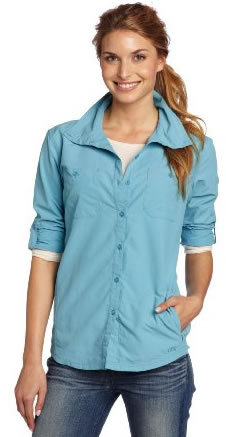 an appearance that you're traveling with more outfits than you really are. A short sleeve shirt can be worn over or under a long sleeve shirt. And a light button up top, like this one pictured from Mountain Khakis, can be worn on its own or over other clothes.
Packable – Make sure that the clothes are not bulky but instead can pack down easily. Yes, it is possible to find cold weather clothes than can be packed small. I took my Canada Goose Hybridge Lite jacket with me to Berlin last week. Because it was so lightweight and can be rolled into a ball, I was able to carry it around with me in my daybag rather than having to check it at the coat check.
Wrinkle-free – Pack clothes that do not need ironing. Synthetic fabrics have come a long way over the years and many companies now produce clothes that won't wrinkle, even when rolled up and tucked between other items in your luggage. Visit any REI or other outdoor retail store and you'll see the wide range of items available.
Quick Drying – Many of these same synthetic fabrics are also very lightweight and will dry quickly. I have a drawer filled with clothes designated for travel. These are all items I know I can wash out at night and by morning they are dry. HINT – It's helpful to towel dry them first (roll them up in a towel and give them a good squeeze) or give them a head start in the drying process by blow drying or hanging them on a heater.
Convertible Pants/Shorts/Capris – A number of clothing manufacturers now make pants that will convert into either shorts or capris. I find these particularly useful when traveling to warm-weather countries where I plan to visit sights such as temples, where more conservative dress is appropriate. I can wear the long pants when I need to and then just zip off the bottoms or roll them up to the length that will serve me better later.
Socks and Underwear – Pack a few pairs of each (in colors other than white) and plan to wash them out every couple of days. Many manufacturers now make underwear that come in quick-drying fabrics so you won't have a problem washing at night and wearing the next day.
Leave-behind Clothes – I've been known to pack a few items that I know I won't be taking home with me. I simply leave them in the hotel room for staff (this is particularly appreciated in developing countries). This then leaves some room for souvenirs for the trip home.
*****
You do NOT need to pack your closet of clothes for a one or two-week journey (or even a five-week trip). And I can guarantee you'll be happier not having to lug around all those items.
Travel Well,
Beth
Related links:
Packing Tips for Women Travelers
How to Pack Your Carry-on Bag