There are many ways to carry your money, passport and credit cards when you're traveling. Each option has its benefits and drawbacks. Here are some of the ways that I've dealt with carrying my valuables on an international trip.
Magellan's Personal Stash
This little pouch is best used to carry a few items such as a small amount of cash, a credit card and, perhaps, a room key. If you're concerned about the potential of being robbed, it's an ideal way to stash away emergency money away from the bulk of your cash or valuables.
The Personal Stash has a couple of snaps at the end of 2 ribbons that you can secure around your bra straps in order to tuck it down the middle of your bra. Alternately you could slip the Stash into one of your cups and use just one snap to secure it to one side.
Depending on your bra and what you're wearing, this may not be quite as subtle as you'd like so use at your discretion. As long as you're not in a spaghetti strap or tight clothing, it should serve you quite well.
It's made of a very soft silk so you'll barely notice that you're wearing it.
Available from Magellan's for about $10.
*****
Lewis and Clark Deluxe Neck Stash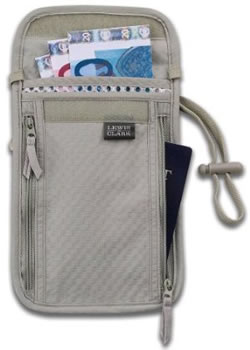 If you're looking to step it up a bit and need something to hold more than just a bit of money, try the Lewis and Clark Neck Stash. My favorite thing about this neck pouch is that there are several compartments where I can keep things nice and organized. My money can go in the main pouch, a zippered section holds my passport and then I can keep my credit cards in a completely different area.
The great thing about a neck pouch is that you can keep your important items with you at all times and you're well aware that they are they (this is not as subtle as the bra stash above). The downside is that the strap around your neck is rarely concealed so that if someone wants to rob you, they'll know right where to go. (Of course, if you've got spare cash in the Personal Stash, you won't be completely out of luck.)
*****
Eagle Creek Money Belt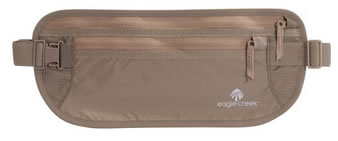 A money belt will do pretty much the same thing as a neck pouch but it's going to sit around your waist and beneath your pants.
The benefit here is that you don't have the obvious strap (like on the neck pouch) letting everyone know that you're hiding something. The downside is that you've go a big bulky waist, letting everyone know that you're hiding something.
The Eagle Creek money belt is nice because it's lightweight, minimizing the bulk underneath your clothes. But once you've added your money, passport and credit cards, it's no longer inconspicuous.
Personally I'm not a big fan of money belts but some people do love them.
*****
Eagle Creek Leg Pouch
Here's an option that might work for you if you're not wearing a skirt or shorts! A leg money belt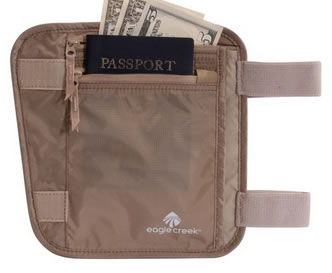 straps around your calf and has enough space for cash, passport and cards. Depending on how loose-fitting your clothes are, other people will never know that you're wearing it.
It becomes just a bit awkward at an ATM when you have to roll up your pant leg to put away your money, but I have found these to be not a totally bad idea. Again, it's going to depend on what you're wearing so you may need a backup option if you'll be in clothes where your calf will be exposed.
*****
You may find that a combination of the above works best for you. The most important thing is that you're know where these important valuables are at all times and that if you lose your passport or credit card, you've got a photocopy of your passport and the phone number(s) for your bank tucked away in your luggage, at home or copies emailed to yourself.
Travel Well!
Beth
Related links:
International Calling Options
Water Bottles for Travel
Alterna Bamboo Smooth for Hair