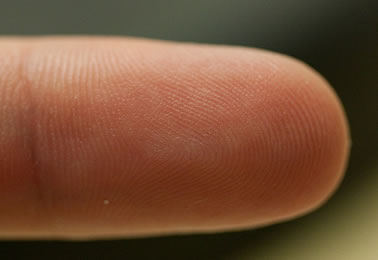 When I returned from Haiti a couple of months ago, I flew into Miami. As I stood in line waiting to go through customs (the U.S. citizens-only line), I noticed a number of people being questioned for a long time by the customs agent. A few of those questioned were then escorted into a room somewhere, presumably for further questioning.
Soon after entering the line it became obvious that I made a bad choice. The line was slow. The agent appeared to be questioning people pretty thoroughly (not necessarily a bad thing), but then I noticed he was also fingerprinting every person that went through his line.
I thought this odd because it was the line for U.S. citizens and I assumed that fingerprinting at airport customs only happened to foreigners.
I then noticed that in other lines, people were not being fingerprinted. Having never been fingerprinted (other than leaving Zambia last year) and wanting to keep my perfect record in the U.S., I started thinking of how I would politely refuse the customs agent's request for my hand. It was then that I realized I didn't know my rights when it came to this.
I bailed on that customs line in Miami (even though I was the next person) and found another one where the agent was not fingerprinting anyone.
******
This experience has been on my mind all these months and oddly enough dominated conversations I had with Jon on the 4th of July (Independence Day, you know?).
Travelers have already been made to feel like criminals when we opt out of the backscatter scanner, do we really need to be fingerprinted just for returning to our own country?
It turns out, according to the ACLU, yes. Customs agents and the Department of Homeland Security, have pretty wide purview in terms of what they can ask us to do. In other words, we have few rights as travelers.
I spoke to a couple of representatives from the Seattle ACLU office and what I was told was, "The courts give latitude to customs." One representative was not encouraged that if this issue went ever went to court, that travelers would win. And he was unsure as to what the outcome would be if a person refused to be fingerprinted.
******
What can you do if you're asked to be fingerprinted at U.S. Customs?
You do have some options.
1) You can politely refuse. Though it's unclear what the consequences would be, my educated guess is that you would be detained. Long enough to miss your flight if you have a connection and enough to make you feel very uncomfortable. Could you be arrested? Not sure.
In an informal poll that I took among my travel colleagues, it doesn't appear there's rhyme or reason for who gets fingerprinted and who doesn't. Is it only at certain airports or for specific flights? Only some agents who are doing it? Is there any profiling involved? Who knows.
I definitely don't want to encourage you to get in trouble with customs, but if you do decline, please let me know how that goes.
2) If you are a U.S. citizen and are fingerprinted at U.S. customs after returning from a trip, contact your State Senators and congressman/woman to express your displeasure. Being fingerprinted upon entry back to the U.S. (after they already have your passport info), is tantamount to being treated like a criminal. Let your representatives know!
Please also contact the ACLU. The representative that I spoke to at the Seattle office suggested that people contact the ACLU affiliate in the state where the fingerprinting took place. His reasoning was that if it's a state with a lot of international arrivals (Florida, New York, or Texas), that ACLU office would have more resources than one from your home state (if not already one of those).
If we can raise enough awareness about this issue, perhaps we can stop this practice.
*****
I appreciate the fact that our government is trying to make things safer for us. But with the revelation of the NSA's data collection, and the seemingly randomness of American citizens being fingerprinted, I am truly concerned that our rights are being infringed upon.
As a U.S. citizen, have you been fingerprinted returning to the country? Please share your story in the comments below or contact me. I'm doing further research on this and would love to hear your story.
Travel Well,
Beth
Related links:
Backscatter Scanners: Why Research Matters
Opting Out of Backscatter Scanners
Full Body Scanners and Your Health
Photo credit:
Fingerprint – Geoffrey Fairchild